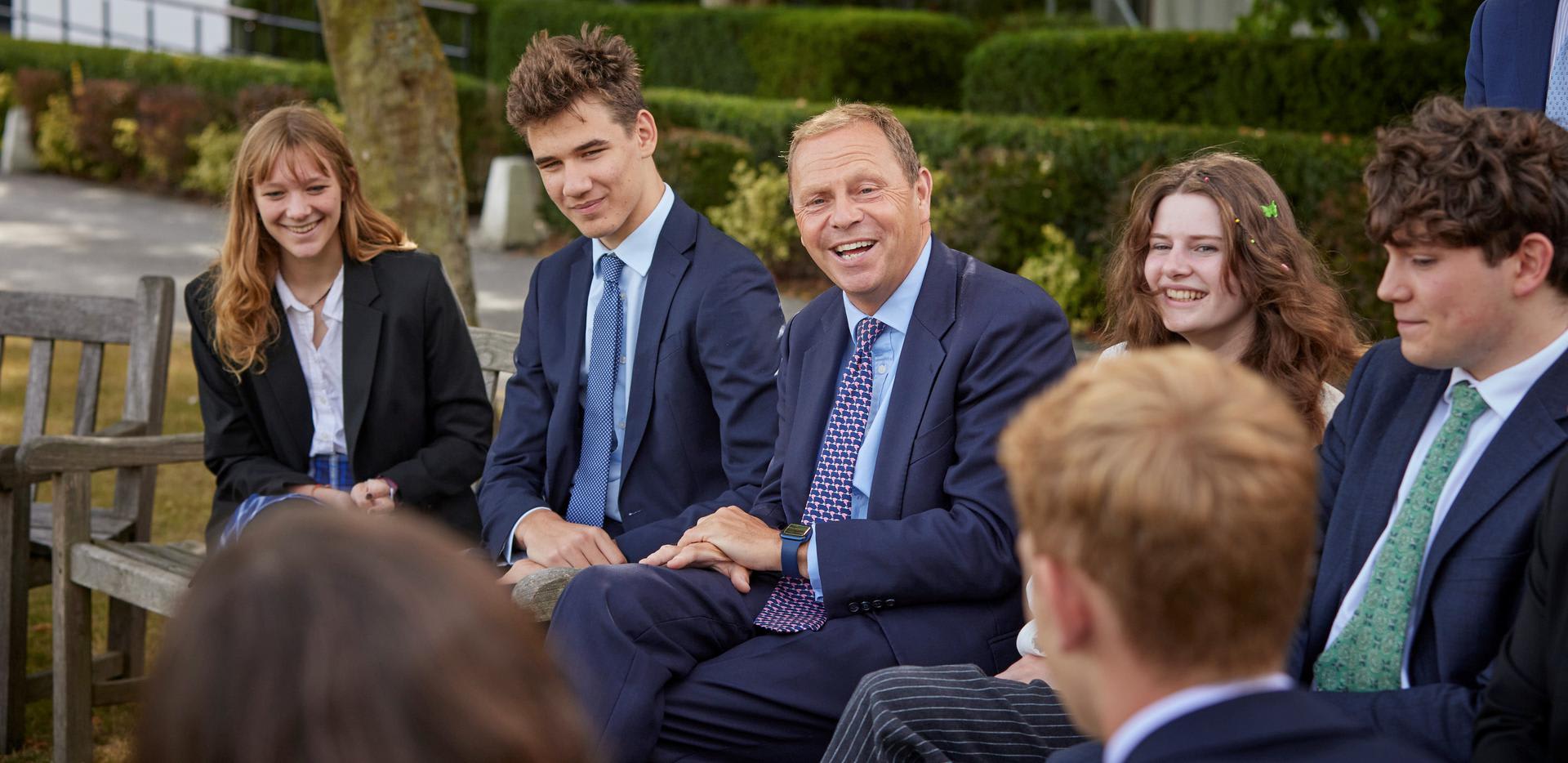 We welcomed Simon Reeve to the school this week for our first Mercers' Lecture of the year. It was a fascinating evening hearing about his life experience and the journey that has got him to where he is now - I do hope that all the pupils and parents who attended enjoyed the evening.
My congratulations go to our Business Team who, this week, won the QuBEc Cup (Queen's Business and Economic Challenge Cup). They fought off eleven other teams to reach victory. Well done to the Economic team as well for reaching the quarter finals.
We have a busy weekend of matches ahead against Bradfield College and King Edward's, Southampton, while our sailors are competing in the ASTO Small Ships Race. I wish everyone the best of luck.
I hope you all have a good weekend and that the Upper School boarders enjoy their trip to see the new James Bond movie on Saturday.
Mark Lascelles, Head Master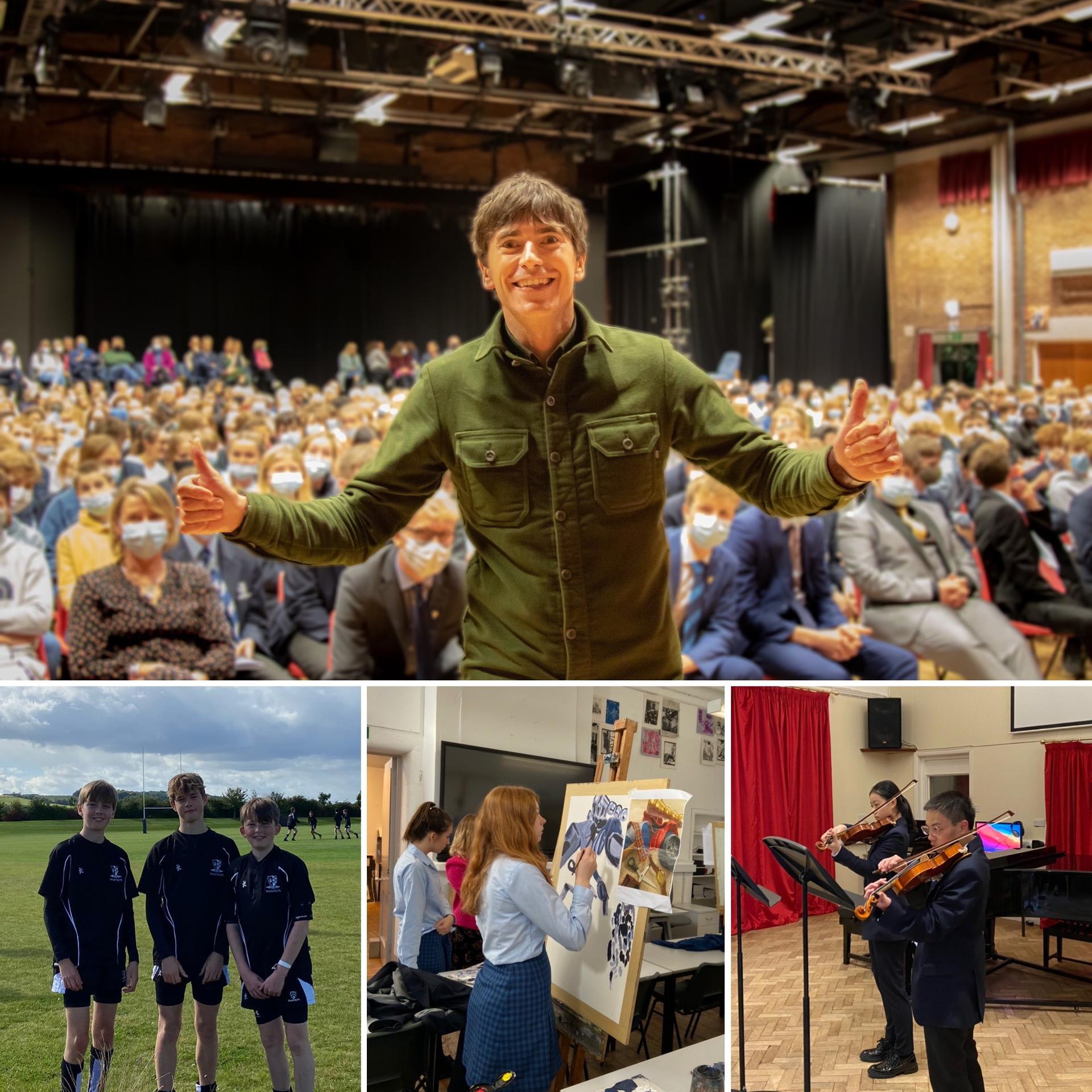 Please remember that all external and internal sports fixtures up until Half Term are on the school website. We will continue to update any changes as and when necessary.
Mercers' Lectures Programme
We hope that those who were able to come and see Simon Reeve on Wednesday enjoyed the evening. Please do remember that we still have some tickets available for John Bird. Priority booking for Carrie Gracie is now exclusively open to our parents, pupils and staff, this will be open to the wider community from Monday 4 October.
Carrie Gracie was a BBC journalist for more than three decades and became the BBC's first China Editor in 2013. She resigned this post in January 2018 in protest at unequal pay. A year later she received a public apology from the BBC as well as back-pay which she donated to the gender equality charity, the Fawcett Society.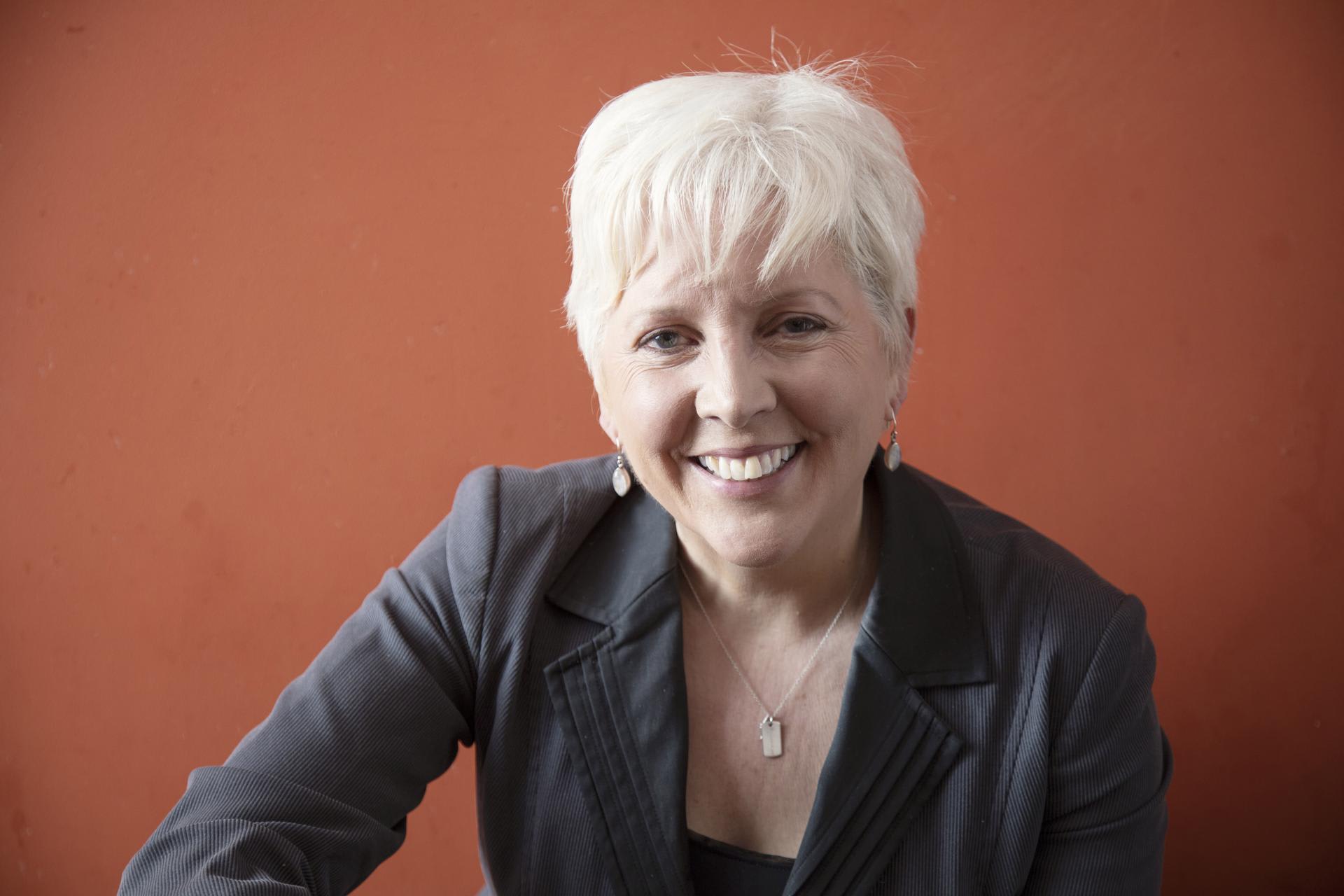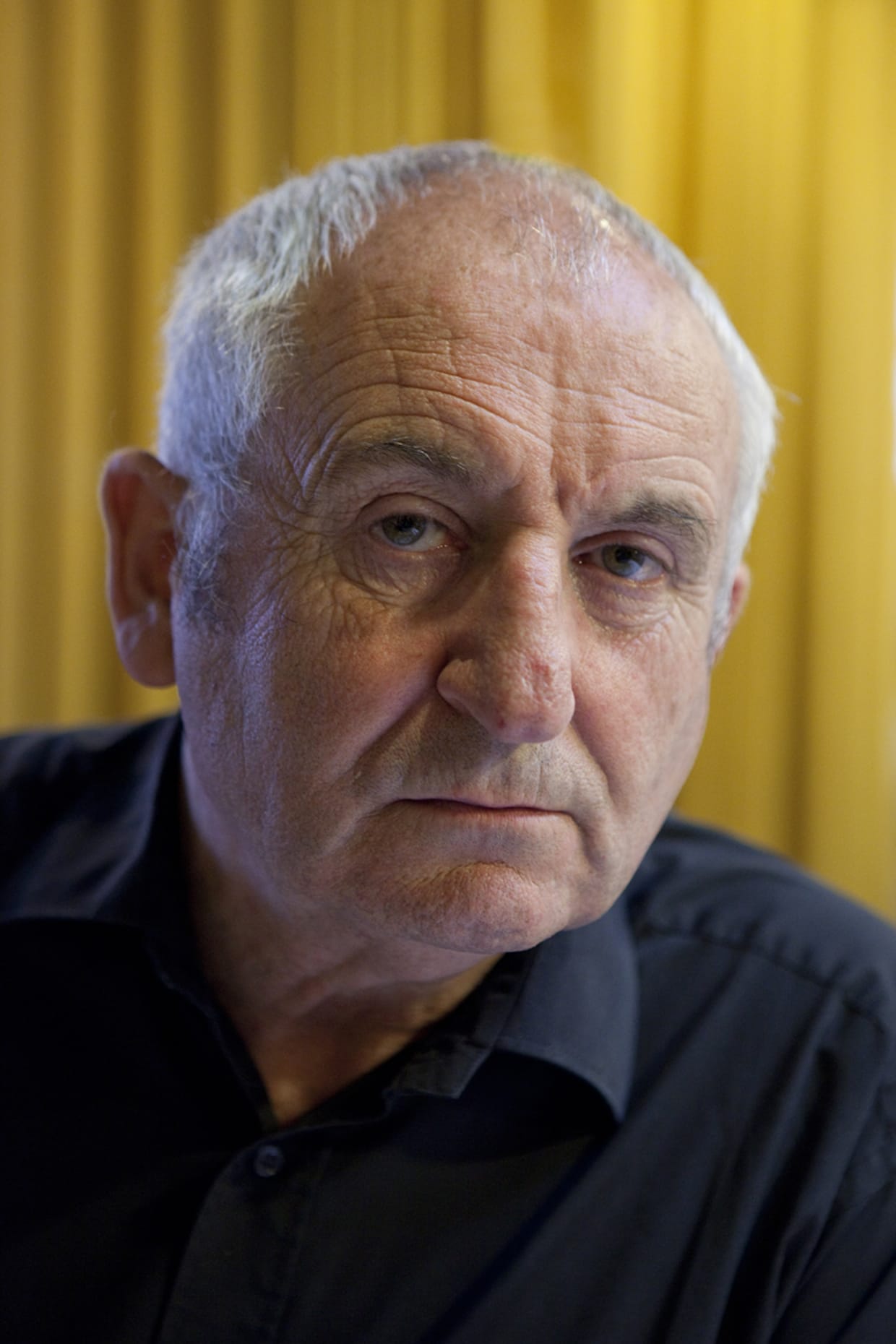 This year we plan to celebrate the National Inter Faith Week in November, making the most of the opportunity it provides for dialogue and increasing understanding between people of religious and non-religious beliefs.
I am keen to hear from parents and members of the Dauntsey's community whose lives are influenced by their faith and who would be happy to share their insights with me as I gather information about the faith profile of our school community. I would also like to hear from people who would be willing to talk to the students about their faith.
We will be marking this event over the following dates in November:
5 November – Inter faith forum
14-17 November - Events in lessons and long breaks
Please get in touch if you think you can help K.pratt@dauntseys.wilts.sch.uk
Katie Pratt
Dauntsey's Riding Team News
Well done to our school riding team for their super results last weekend!
Emily won her section at the SEG 90cm ODE Eventing Championship finishing on her dressage score! Polly, at her first Dauntsey's event, came fourth at Stonar ISODE 70cm and Lily, on her sister's pony, a very respectable seventh in the 70cm.
Online Parent Talk - E-safety - 26 November
Please save the date for an online E-Safety talk on Friday 26 November at 6:30pm. The talk will be given by Karl Hopwood, an independent esafety expert, who will be sharing with parents:
What children and young people are doing when they go online.
What are the real risks that they face?
What can parents do so that their children can benefit from the opportunities that the internet offers but in a safe and secure way – a mix of technical and practical solutions.
Karl is a member of UKCCIS (UK Council for Child Internet Safety) and sits on the advisory board for the UK Safer Internet Centre and the education advisory board for CEOP.
Parents will be able to access the talk via Teams and a link will be sent out to all parents, via email, in advance.
Hockey Club for Beginners and Improvers
There is still space on the Hockey Club for Years 7 and 8. Please remember that this club is free of charge and open to the wider community. You will find more details on the club and how to sign up here.
The application process for our Sixth Form scholarships and awards for current Fifth Form pupils has recently been updated to the following effect:
Academic Scholarships - Current pupils in receipt of an Academic Scholarship awarded at 11+ will be contacted by David Noble, Deputy Head (Academic) after October Half Term regarding renewal procedures. New 16+ internal Academic Scholarships will be awarded based on GCSE results in August.
Sports Awards – Current pupils in receipt of a sports award given at 11+, will be contacted by Marcus Olsen, Director of Sport, regarding renewal procedure. The Director of Sport will be in touch with pupils directly regarding any new 16+ awards.
Performing Arts Awards and Music Exhibitions – Current pupils in receipt of a Music Scholarship or Exhibition awarded at 11+, will be contacted by Gareth Harris, Director of Music regarding renewal procedures. The Director of Music will be in touch direct regarding any new 16+ awards.
The Director of Drama and Head of Dance will be in touch regarding any new 16+ awards and the relevant procedures.
Current pupils in receipt of a Performing Arts Award made at 13+ need not apply as these continue into the Sixth Form.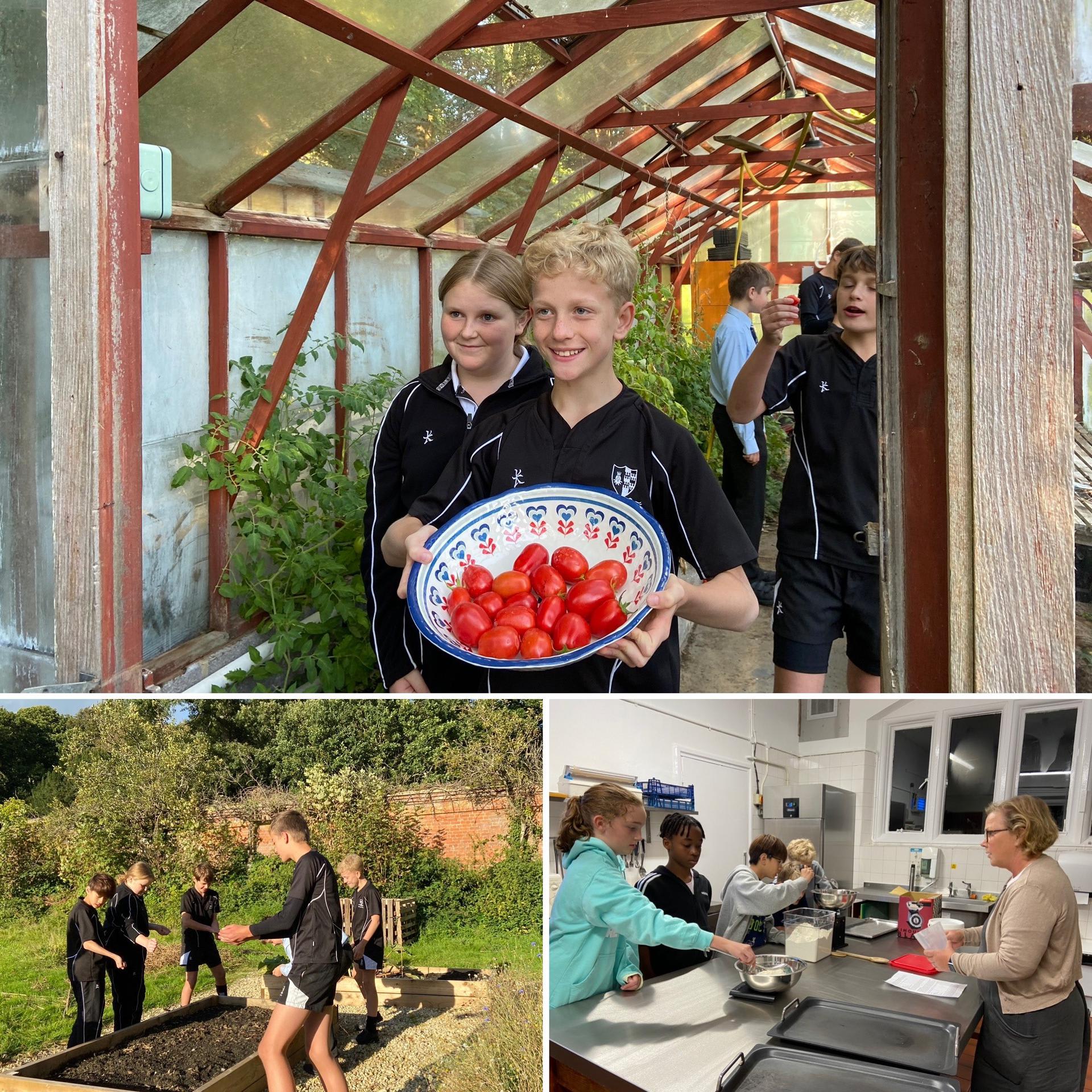 It appears as though all of the Manorites enjoyed a relaxing Exeat weekend and those pupils who joined the International Society trip returned full of very happy tales about their adventures at Thorpe Park! This week we have noticed a definite change in the weather and the Manor Veg Patch Club have been busy picking the last of the summer's tomatoes and chillies, as well as preparing the raised beds for the winter months.
On Wednesday night, the Manorites came to school for the first of this year's Mercers' Lectures. All seemed to thoroughly enjoy the talk, given by Simon Reeve, and they came back to The Manor recounting his tales of beheadings and the 'delicacies' that he had enjoyed eating!
Some of our First Form pupils spent a very happy evening in the kitchen with Mrs Reynolds, as they prepared goodies for their 'Roman Feast' which took place in their Latin lesson on Thursday, and we all hope that the pancakes were enjoyed. This weekend there will be some more baking on the agenda on Sunday, and on Saturday evening the Manorites will be cooking their supper on the Campfire.
Anne Sampson, Housemistress
Sixth Form Coffee Morning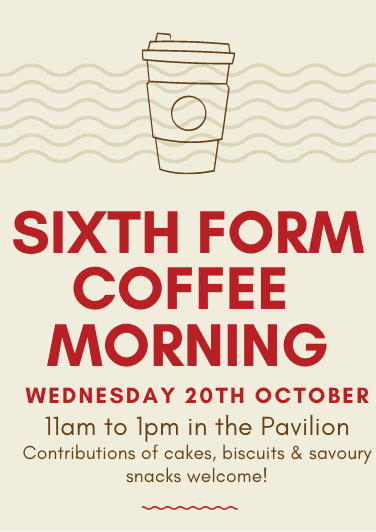 Please have a look at our digital noticeboard here. It is to advertise our own online community to connect Dauntsey's parents and businesses in order to buy, sell and advertise to each other in one trusted place. If you would like to place an advert, please email dspacontact@gmail.com
Please follow us on Twitter @DauntseyDSPA where we will keep you updated with our news.
Nurturing pupil's mental health and wellbeing.
Developed by child and adolescent mental health and wellbeing experts, the Wellbeing Hub is an interactive online portal, designed to help you guide your child as they grow up.
Please remember you will need to register before you access any of the below, instructions and links for accessing the Wellbeing Hub are detailed here on Firefly.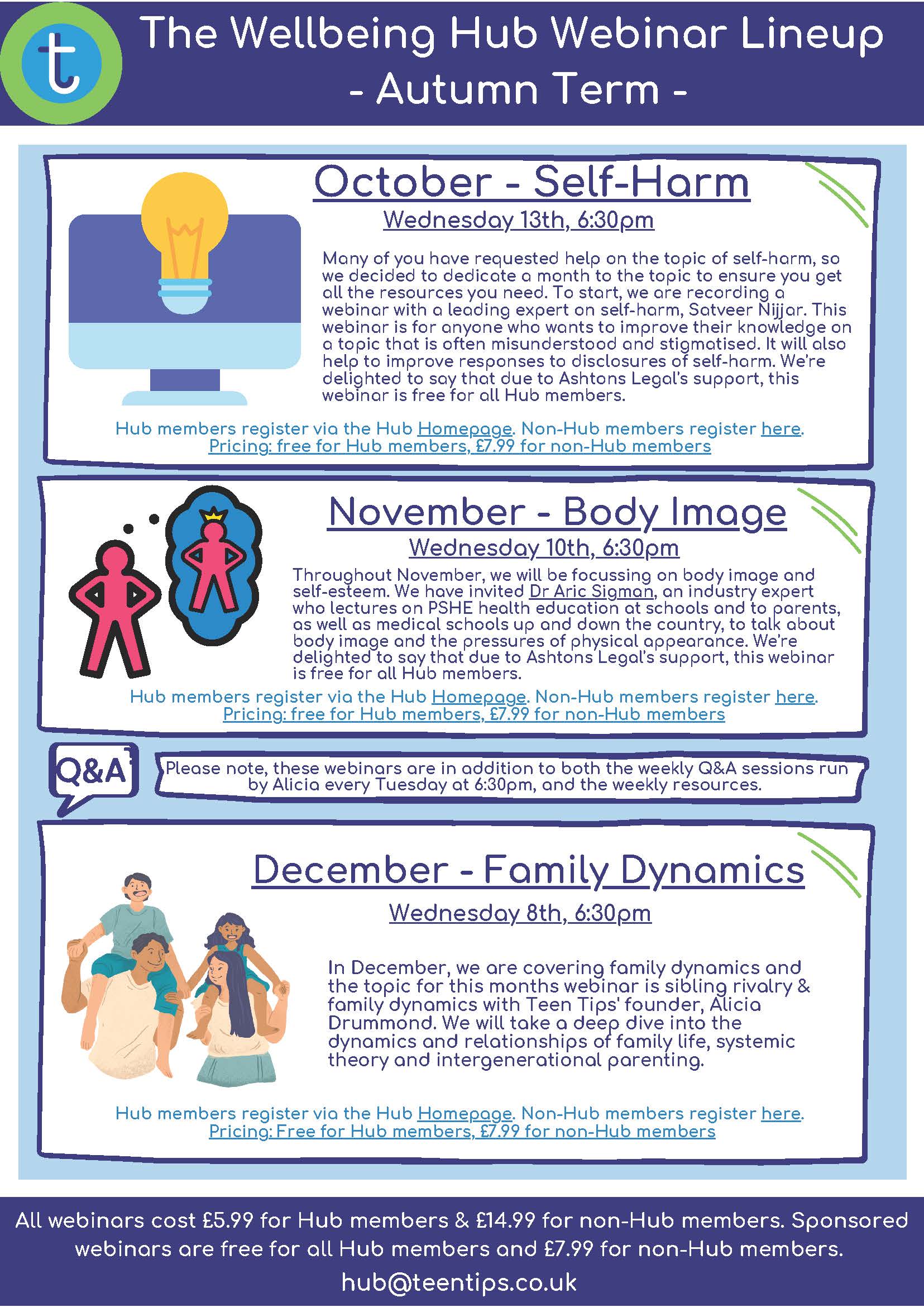 This Week in the Wellbeing Hub
Podcast: Academic Success & Metacognition
We discuss what a metacognitive toolkit is and how it equips young people with the understanding of the thinking processes needed to face a challenge or problem. Arabella explains how we can help young people develop a great habit of mind, which according to Costa & Callick, underpins the actions of every successful person. Finally, we discuss how to use deliberate practises to ensure young people succeed.
Please follow us on our social media accounts!