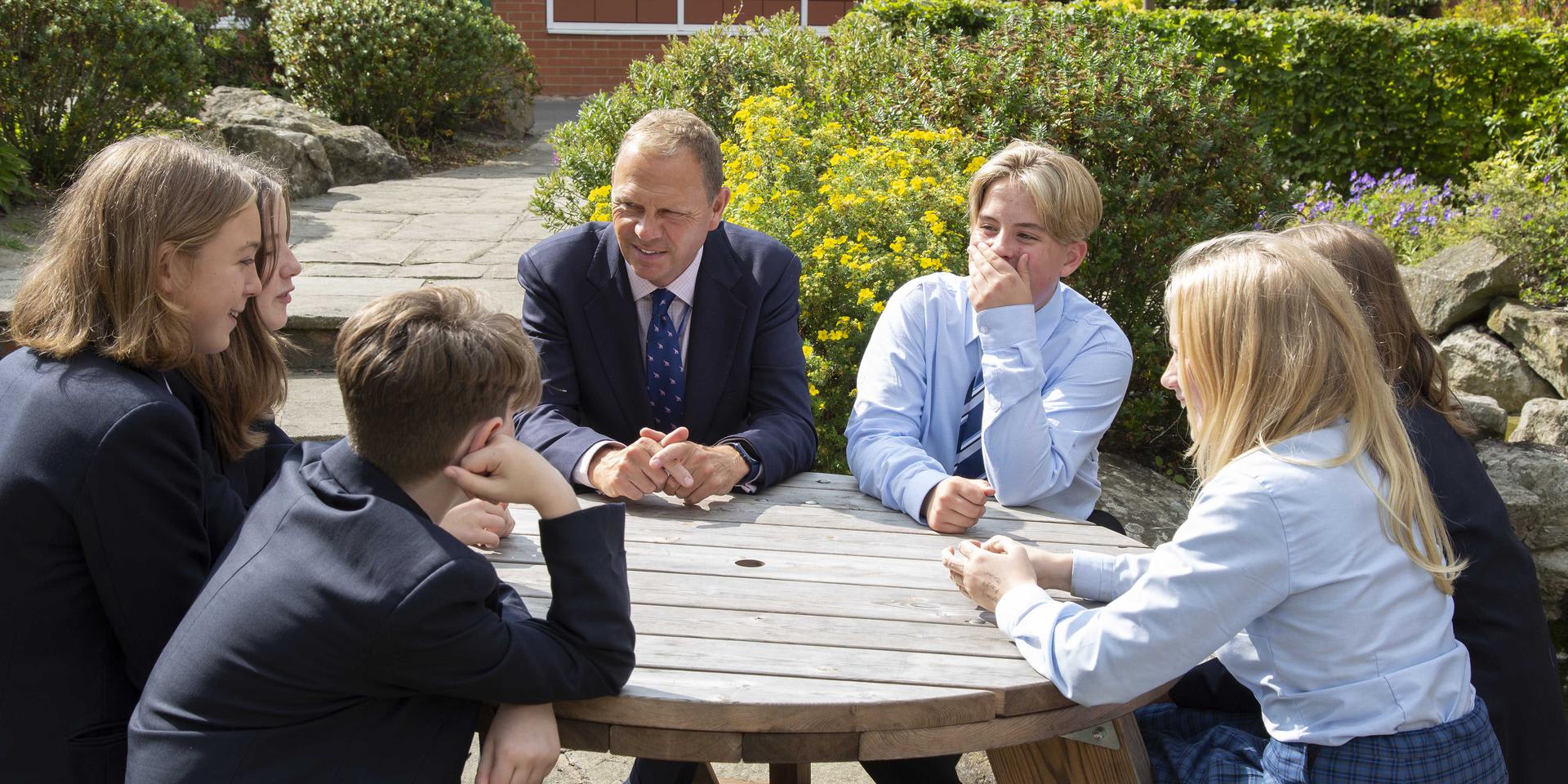 Welcome to the first Weekly Bulletin of the academic term, which will appear in your Inbox every Friday. We hope that you will find it helpful to have school notices and reminders in one place and that it reduces the rest of the email traffic from us.
It has been a wonderful first few days, as we have welcomed back familiar faces and greeted new ones too. For pupils and families alike, joining a new school can feel daunting, but I hope that our 183 new pupils will settle quickly and that Dauntsey's life will soon become the norm. I am sure that there were nerves in a lot of households this morning and hope that everyone can get back into the swing of things quickly, and feel happy and settled along the way. Please do remember to always get in touch with Tutors and House staff should you have any concerns or worries.
The first school assembly was a reminder of just one of the many things that we have missed over the last couple of years and I hope that the current positivity and optimism can sustain us through this term and beyond. Today, I have asked your sons and daughters to set off on their journey through here with a determination to do their best, a pledge to be kind and a willingness to be both adventurous and inquisitive. If all pupils are focused on these three areas, not only will they make the most of their time at the school, but we will also ensure that the positive, kind and warm atmosphere that is ever present at Dauntsey's continues.
On a final note, whilst we are delighted to have life returning to normal, we remain very much aware of the continued presence of COVID-19 in our lives. I therefore do ask that you do take note of our COVID-19 Testing message below and take the necessary action.
I wish you all a super start to the term and I look forward to seeing you at school events over the course of the year.
Mark Lascelles, Head Master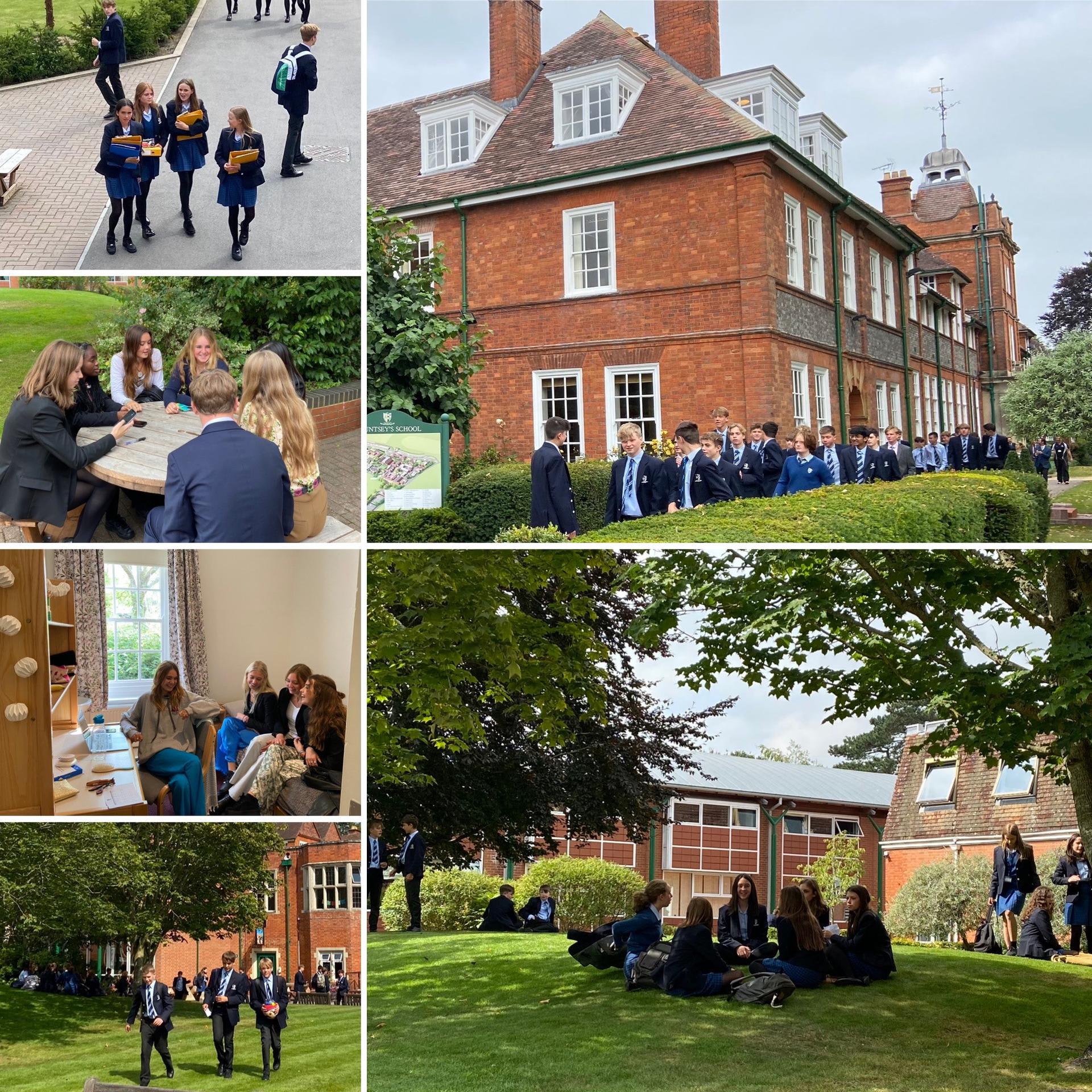 Firefly - The School Intranet
You should now be able to access the School Intranet, Firefly, and see your children's details including timetables. If you have any problems with this please contact Caroline Jones, Database Manager, at c.jones@dauntseys.org
For those parents who have not yet seen the letter sent out earlier in the week regarding the COVID-19 testing programme, a copy of the letter can be found here . Please could parents respond to the questionnaire and consent (as explained in the letter) before Sunday evening if they would like their child to take part in the on-site testing programme staring on Monday.
Charity Cricket Kit Recycling
Dauntsey's have teamed up with the Lord's Taverners to collect used cricket kit and distribute it to those in the UK and overseas who may not be able to access their own. As the season comes to an end, we are therefore asking if you do have second hand pads, bats, gloves, shoes etc. which are in serviceable condition, to please consider a donation.
Simply leave any such kit in the glass house marked 'Charity Cricket Recycling', and we will ensure it goes to a good home. We will be open for deliveries any time between now and half term.
Owing to restrictions, we have decided, once again, that all mouthguards will need to be ordered via OPRP. All details on the mouthguards and how to order can be found here.
Marcus Olsen, Director of Sport
Music - Dates for the Diary
Senior Choir - Sunday 5 September
We are able to have our first service of the year back in West Lavington Church on Sunday afternoon. It would be lovely if we could have a full turnout for this event. Pupils will need to meet in the Old Hall at 4.15pm in school uniform. We will collect gowns from the Mem Hall and then walk down to West Lavington Church to rehearse. The service starts at 6pm and will be finished by 7pm.
Soloists' Recital - Thursday 16 & 23 September
There are two solo music recitals this term. All Music Award holders will need to present a solo piece for performance at one of these events. If a piano accompaniment is needed, pupils will need to see Miss Gascoyne in the Music Department with a copy of the music to arrange a rehearsal. If non award holders would like to perform, they are very welcome to submit a piece for the event. Parents will be able to attend and more details will follow shortly.
Music Ensembles
All bands and choirs start on Monday. Please see the calendar for details of the groups offered.
Gareth Harris, Director of Music
On Tuesday 21 September the Virgin Immunisation Team will be in school to offer the nasal flu spray to all pupils Second Form to Fifth Form. Please note this is not the COVID-19 immunisation. All parents will be sent a link within the next day or so to consent to this nasal spray.
Mercers' Lectures Programme
We are delighted to see the return of our Mercers' Lectures Programme this Autumn. Detailed information on the programme can be found here.
Booking for Simon Reeve (Wednesday 29 September) is now exclusively open for our parents, pupils and staff. We will be opening booking to the general public on Monday, so please do book this weekend to avoid disappointment. Seats have already been reserved for our GCSE and A Level Geography pupils, as well as Manor boarders, so please do not include them in your booking.
Thank you for your support.Jo Sagers, Registrar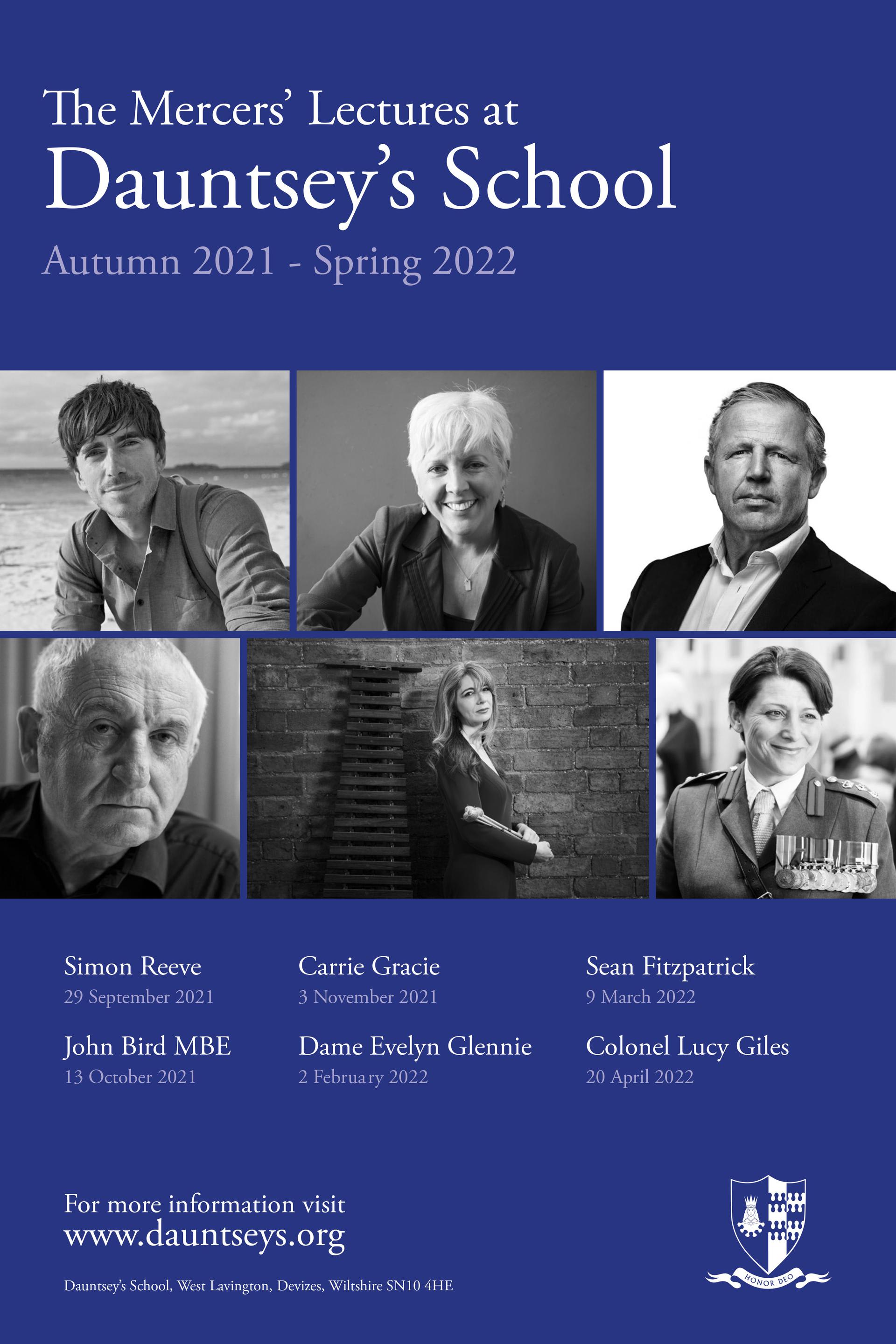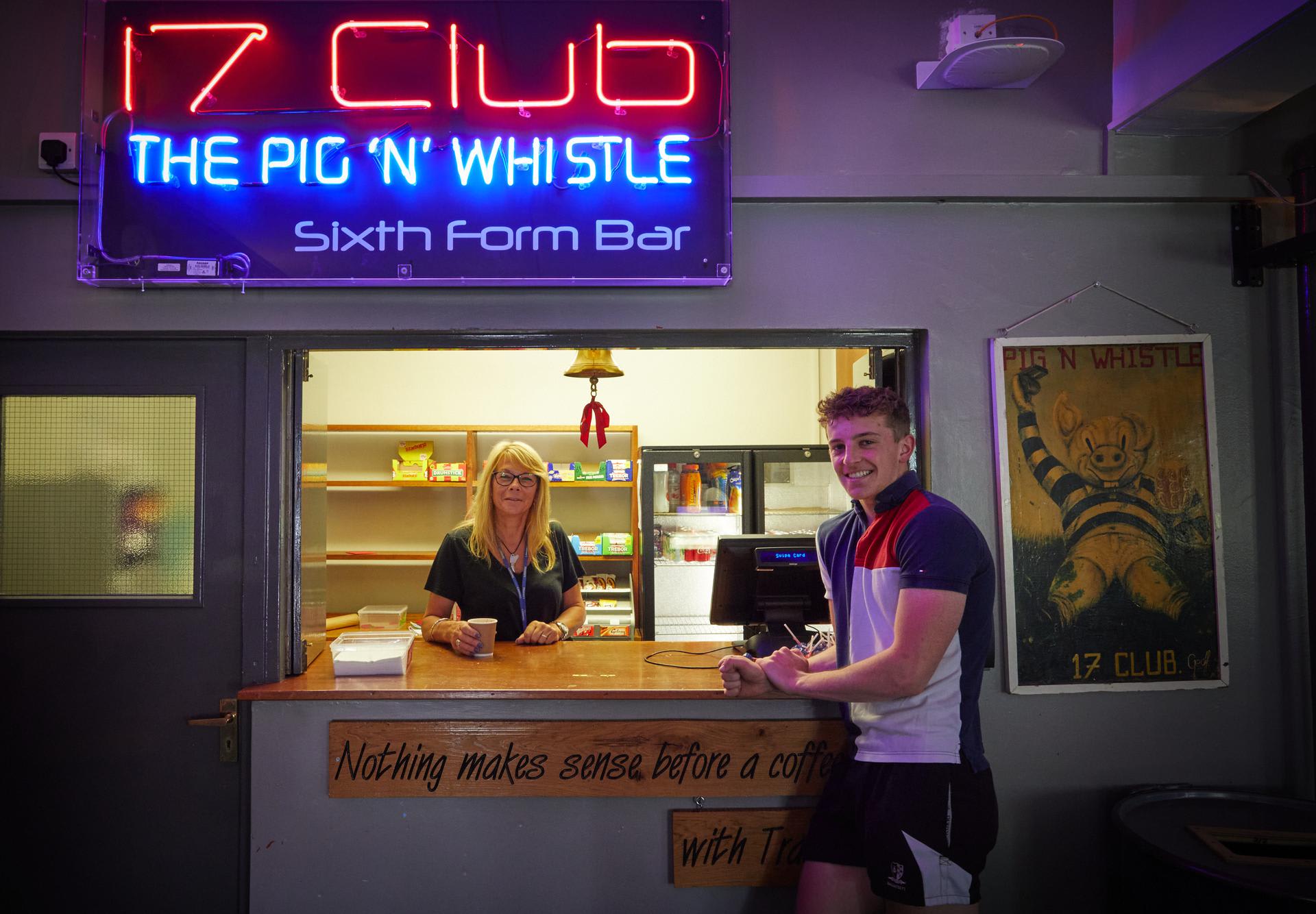 Sixth Form 'Welcome Back' Party
On Saturday 4 September between 7.30pm and 10.30pm we will be hosting the 'Welcome Back' Party in the 17 Club. To ensure that all pupils can attend, please could parents of all Lower Sixth pupils return the attached 17 Club Registration documents to Miss Bradley (k.bradley@dauntseys.org) or Mr Fulling (d.fulling@dauntseys.org) as soon as possible. It is not necessary for those moving into the Upper Sixth to complete a form as the registration lasts for the two years that they are in the Sixth Form.
Once again this year we will be running the highly successful Sixth Form Fun Day (for both Upper and Lower Sixth students) on Sunday 5 September between 10am and 1pm. It is organised by 'Fun Matters', a professional company from outside the School, and will involve a huge range of different activities including, amongst others, The Big Challenge (a giant inflatable assault course), a bungee run, a surf-board and inflatable jousting. Over the past few years it has not only been great fun but also an excellent way to bring a large number of the Sixth Form together.
Upper Sixth Spanish students are to attend a webinar on their IRP on Wednesday 8 September, 4.20pm-6pm in ML4 with Mrs Hills. Please can transport be arranged home so students are able to attend the full session.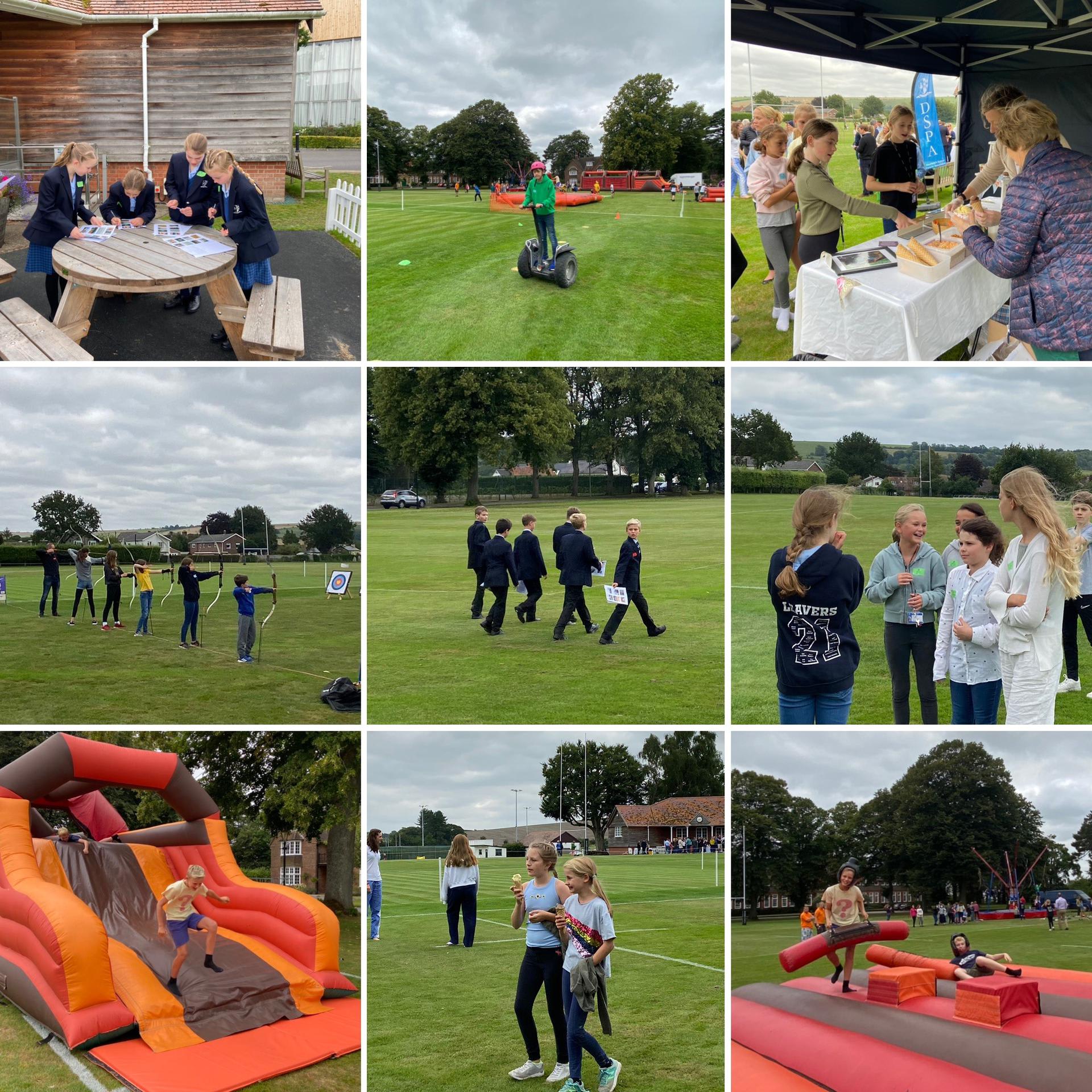 Lower School Funfair & BBQ
On Friday 10 September from 5.20 – 7.30pm the Prefects and I are organising a Funfair and BBQ for all Lower School pupils. Plans are being finalised for a variety of fun activities and some novelty events. It will, I hope, be a very good opportunity for the pupils to get to know one another and forge new friendships.
I would also like to extend an invitation to parents to join us from 6.30pm onwards for drinks and nibbles on the lawn of the cricket pavilion.
I would be grateful if you could email me your reply by Wednesday, 8 September. There is no need for parents of Manor pupils to reply.
If the weather is inclement, the event will be cancelled by 4.30pm and day pupils will travel home as usual.
Eleni Conidaris, Head of Lower School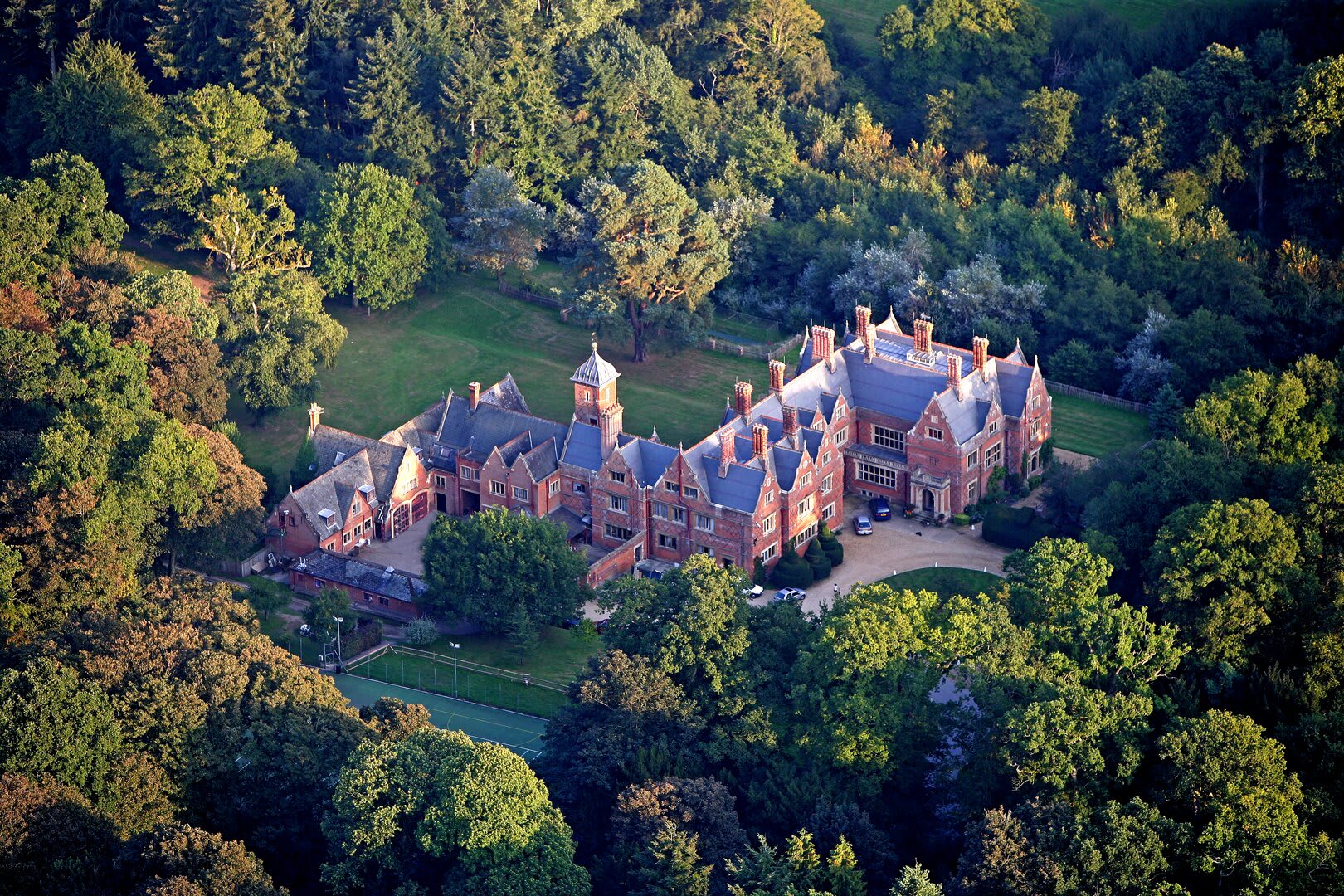 It is wonderful to be back at The Manor! We welcomed 45 new Manorites, and 35 returning Manorites to the House yesterday and it is great to hear the laughter and chatter everywhere again. We have a busy weekend ahead, with a wide game on Saturday evening, followed by a day filled with activities on Sunday; the children will be decorating mugs, designing bunting, baking some cakes, doing a scavenger hunt and playing some football golf…I'm sure they will all be very ready for bed on Sunday night!
Please do follow us on Twitter @ManorDauntseys if you can; we will be tweeting photos of the Manorites, and what they get up to, throughout the year.
The Dauntsey's School Parents Association, known as The DSPA is a charity foundation, set up to enhance our children's school experience; to enable pupils to benefit from the wider resources of the Dauntsey's family; and to fund extraordinary activities and items outside of the School's normal remit by raising revenue from school and social events. The DSPA is not just about making money, but about giving something back to the Parents. We are all aware that as parents we make many sacrifices to enable our children to attend Dauntsey's, so the DSPA is working to organize more and more social events that will bring parents together.
Please do keep an eye on this section as we hope to hold a number of parent events throughout the year.
We will be holding the DSPA AGM on Wednesday 15 September. All are welcome to attend and if you wish to do so please contact dspacontact@gmail.com
Please have a look at our digital noticeboard here. It is to advertise our own online community to connect Dauntsey's parents and businesses in order to buy, sell and advertise to each other in one trusted place. If you would like to place an advert, please email dspacontact@gmail.com
Please follow us on Twitter @DauntseyDSPA where we will keep you updated with our news.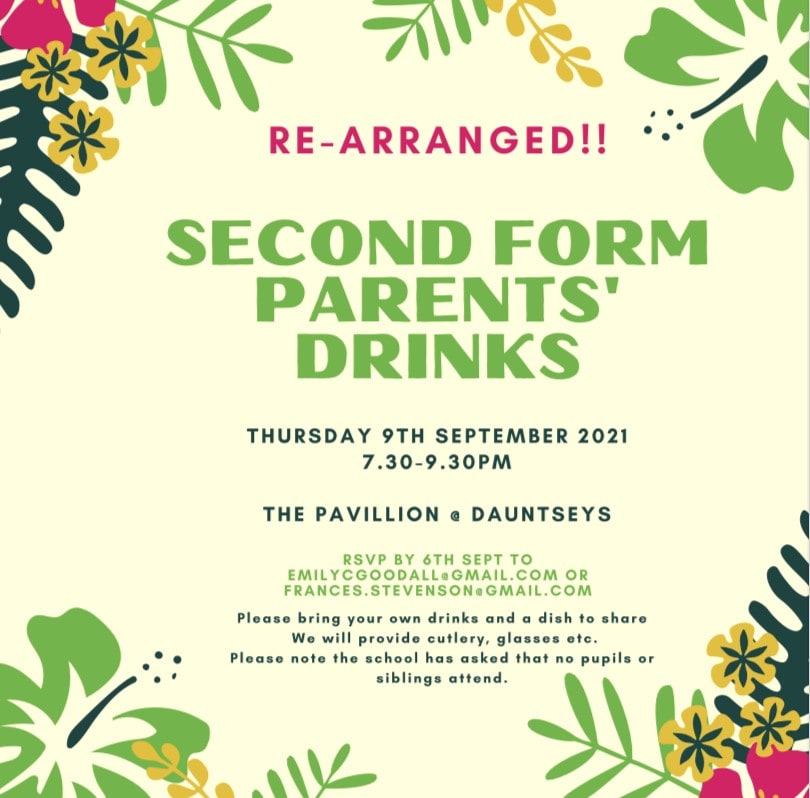 Please note, in the calendar this is detailed as First Form Drinks as they have been rearranged from last year.
Nurturing pupil's mental health and wellbeing.
Developed by child and adolescent mental health and wellbeing experts, the Wellbeing Hub is an interactive online portal, designed to help you guide your child as they grow up.
Please remember to register before you access any of the below, instructions and links for accessing the Wellbeing Hub are detailed here on Firefly.
September's Theme: Cultures of Success
New: Tip Sheet on Safe Gaming from Cam Adair, a leading expert on gaming addiction & founder of Game Quitters
Coming Up: Live Q&A with Alicia every Tuesday at 6:30pm
Podcast on the neuroscience of memory & learning with Julia Harrington, founder of Brain Can Do; Talk on process & end goal cultures with Alicia Drummond; Blog on how to ensure young people thrive; Podcast on academic success & metacognition with teacher, Arabella Northey.
Please follow us on our social media accounts!