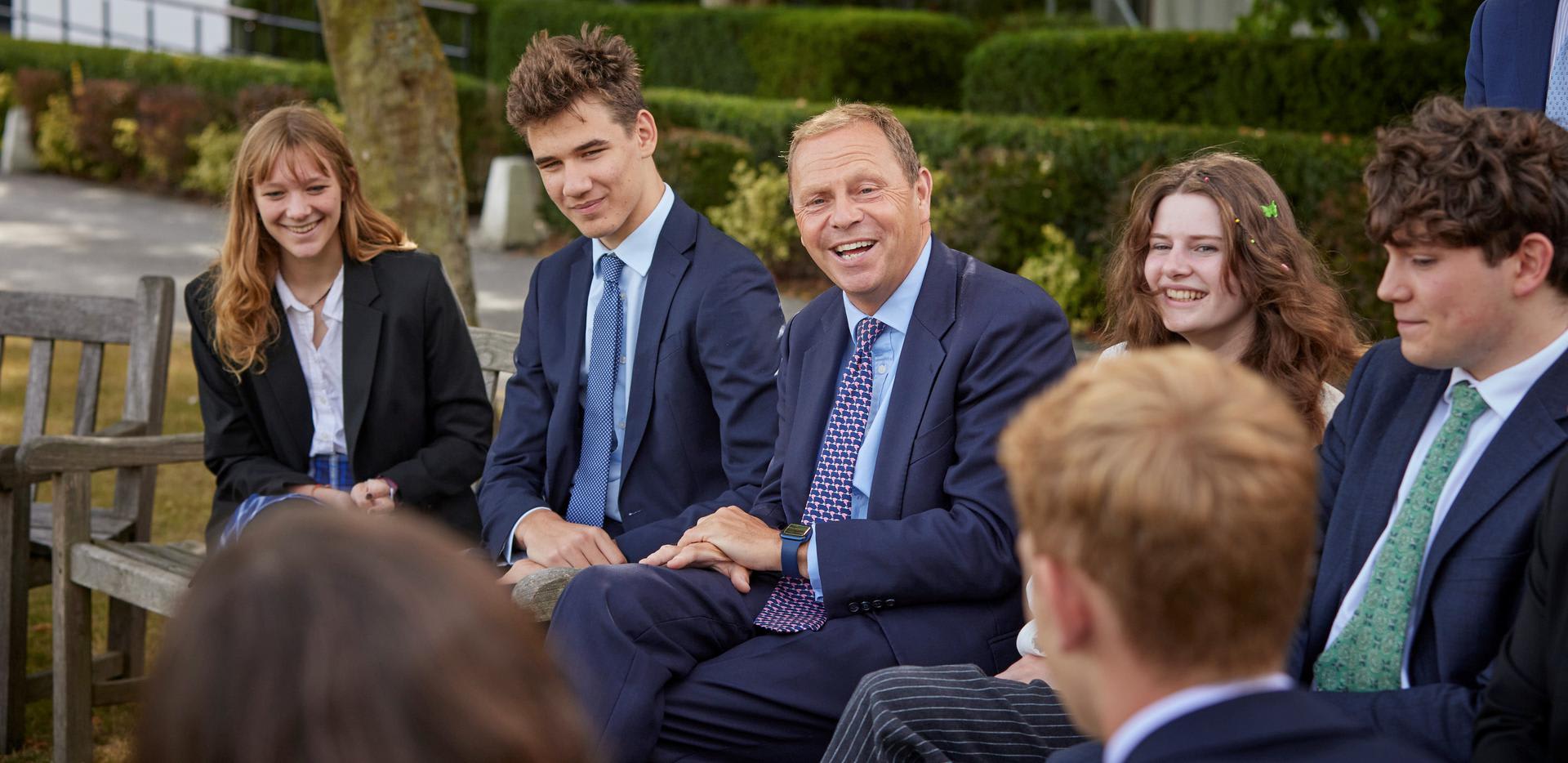 One of the highlights of this year has been having live performances back at the School – I know that this was sorely missed by many pupils (and indeed parents) last year. So I thank and congratulate the cast and crew of Perspective for their performances this week and wish them luck with the final show tonight. Preparations are also going at pace for the December musical, Legally Blonde, with the cast in this weekend for rehearsals.
We have also enjoyed being able to run the Mercers' Lecture programme again. Lord John Bird brought extraordinary energy and charisma to his talk on Wednesday and it was an unforgettable evening. Carrie Gracie is up next just after half-term.
On the academic front, the Government's plans for next summer's exams are beginning to emerge and David Noble (Deputy Head Academic) is writing to parents of pupils in the Upper Sixth and Fifth Forms later today regarding the timing of mock exams, as well as with plans for an online Sixth Form presentation evening. I would also like to congratulate one of our Sixth Formers, Natalia, who has been awarded a runner-up prize in a prestigious essay competition run by The Horniman Museum and Goldsmith's University. There is more about Natalia's essay on the website and we look forward to publishing it later in the year in The Dauntseian.
Tomorrow brings hockey fixtures against Kingswood and rugby fixtures against Sandroyd and Downside.
We then will return for a final few days of work before half-term and I am pleased to write that with the news that the number of Covid cases in school has fallen since my last letter. If you are heading abroad for half-term, I wish you safe and healthy passage. I hope that you enjoy the weekend.
Mark Lascelles, Head Master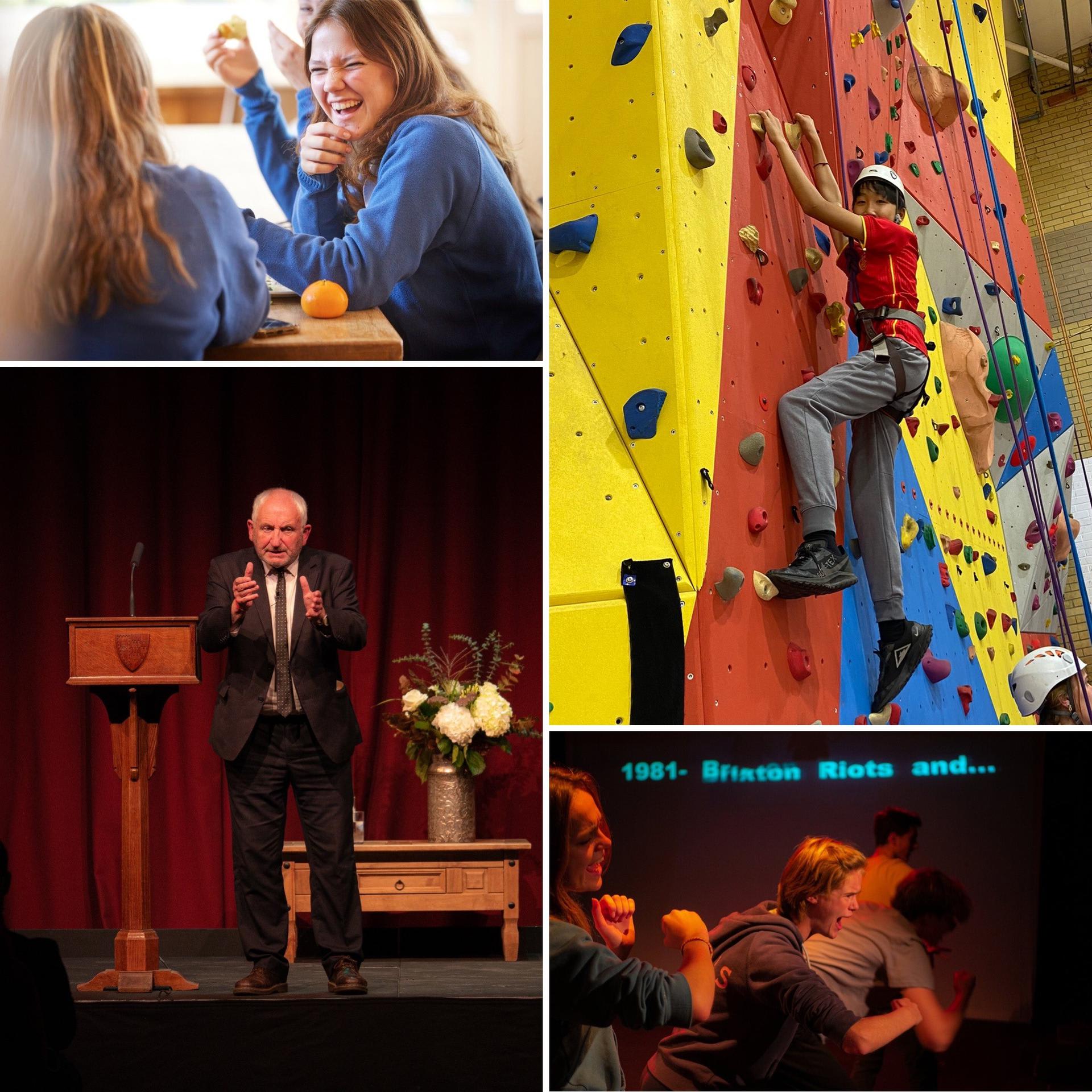 Coming soon...Legally Blonde, The Musical!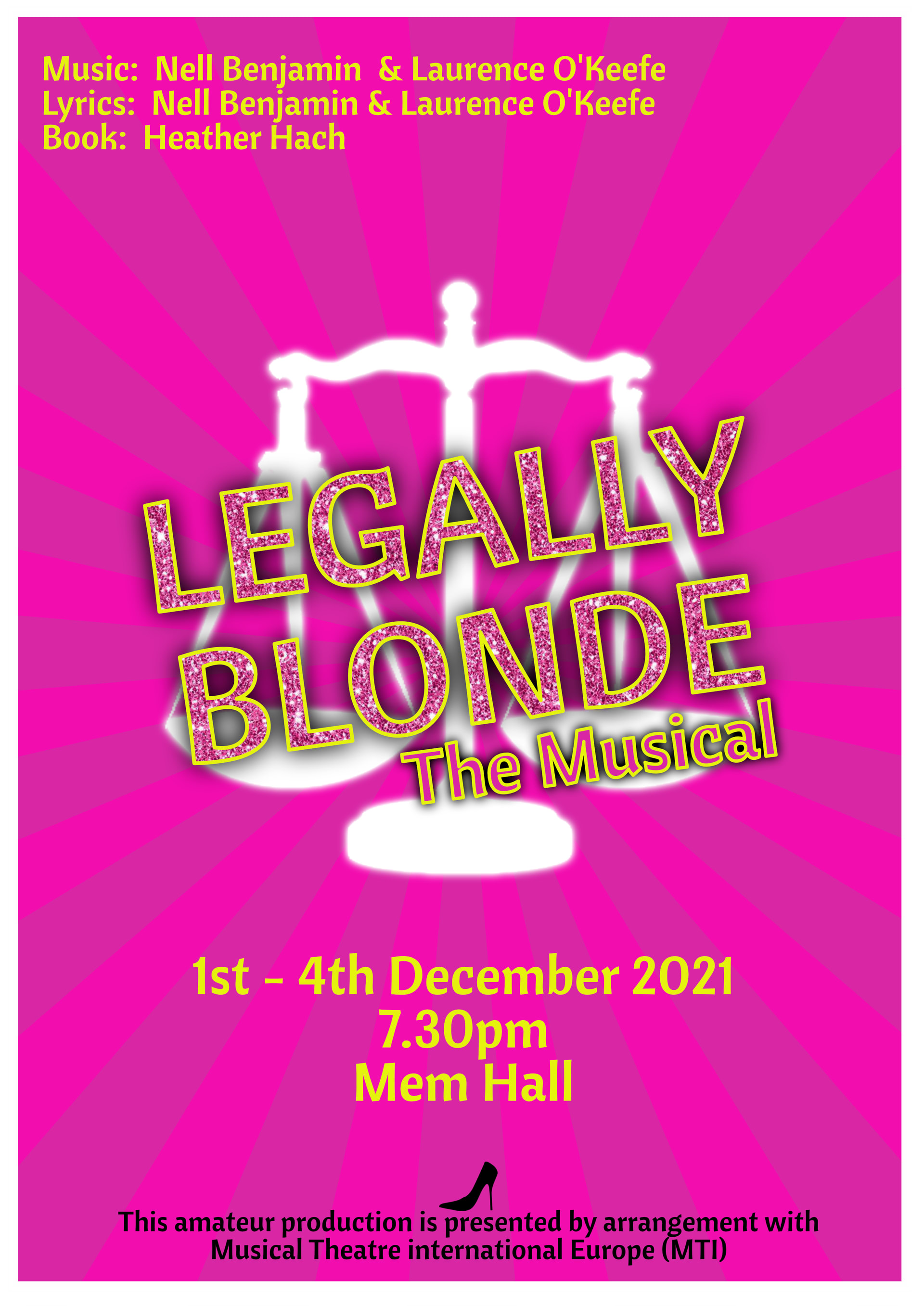 Tickets for our December Musical, Legally Blonde will go on sale at 5.20pm on Monday 1 November via the link on our booking page.
Please note that tickets will not be for sale on the door and can only be reserved online using a credit or debit card. All Dauntsey's pupils and staff are entitled to one free ticket.
COVID safety measures may well be in place at the venue and details on this will be communicated at the time of booking. If you have any questions about reserving tickets, please contact c.walker@dauntseys.wilts.sch.uk
Get Involved with Movember!
The Dauntsey's community are participating in Movember this year! A Dauntsey's School team has been set up for those who wish to grow a mo, raise money in their own way or take part in MOVEmber, which involves doing 60km (running, walking, cycling etc) within the month of November. The Movember movement raises money for suicide prevention, mental health support and raises awareness about prostate and testicular cancer.
We would welcome any parents who wish to join the Dauntsey's School Movember team. Please contact Will Ford and he will send you a link to join!
If you haven't already joined the Dauntsey's School Running Club on Strava, feel free to look it up and we will add you to the group.
For any parents who are interested in running as a group, Greg James is also offering some parent group running sessions so please contact him on g.james@dauntseys.wilts.sch.uk if you are interested.
Mercers' Lectures Programme
We will be welcoming Carrie Gracie to Dauntsey's on the Wednesday after half-term. There are still tickets available to come and hear her speak, so please do book online if this is of interest.
Carrie Gracie was a BBC journalist for more than three decades and became the BBC's first China Editor in 2013. She resigned this post in January 2018 in protest at unequal pay. A year later she received a public apology from the BBC as well as back-pay which she donated to the gender equality charity, the Fawcett Society.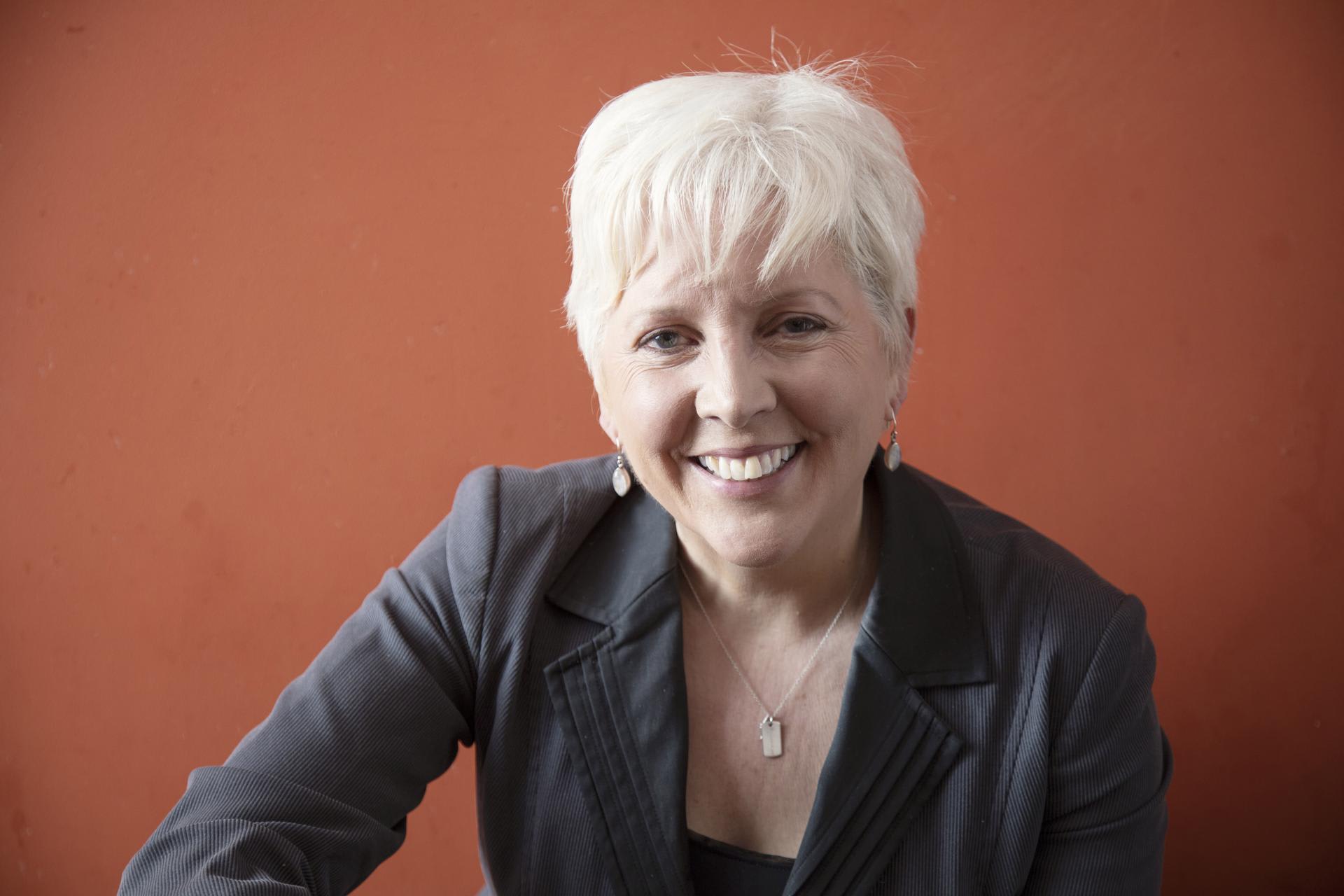 The Fourth Mathematics Department Newsletter has Landed!
How did algebra help to allocate the Manor lockers? A Swiss University has set a new world record, but for what? How did Mathematics help Emma Radukanu? All this and more in the latest edition from the Maths Department - read the full Newsletter here.
This year we plan to celebrate the National Inter Faith Week in November, making the most of the opportunity it provides for dialogue and increasing understanding between people of religious and non-religious beliefs.
I am keen to hear from parents and members of the Dauntsey's community whose lives are influenced by their faith and who would be happy to share their insights with me as I gather information about the faith profile of our school community. I would also like to hear from people who would be willing to talk to the students about their faith.
We will be marking this event over the following dates in November:
5 November – Inter faith forum
14-17 November - Events in lessons and long breaks
Please get in touch if you think you can help K.pratt@dauntseys.wilts.sch.uk
Katie Pratt
The application process for our Sixth Form scholarships and awards for current Fifth Form pupils has recently been updated to the following effect:
Academic Scholarships - Current pupils in receipt of an Academic Scholarship awarded at 11+ will be contacted by David Noble, Deputy Head (Academic) after October Half Term regarding renewal procedures. New 16+ internal Academic Scholarships will be awarded based on GCSE results in August.
Sports Awards – Current pupils in receipt of a sports award given at 11+, will be contacted by Marcus Olsen, Director of Sport, regarding renewal procedure. The Director of Sport will be in touch with pupils directly regarding any new 16+ awards.
Performing Arts Awards and Music Exhibitions – Current pupils in receipt of a Music Scholarship or Exhibition awarded at 11+, will be contacted by Gareth Harris, Director of Music regarding renewal procedures. The Director of Music will be in touch direct regarding any new 16+ awards.
The Director of Drama and Head of Dance will be in touch regarding any new 16+ awards and the relevant procedures.
Current pupils in receipt of a Performing Arts Award made at 13+ need not apply as these continue into the Sixth Form.
MFL Fashion Show - 4 November
Third Form pupils in Spanish, German and French are taking part in a fashion show on Thursday 4 November. The teams are set, the preparation is underway and it promises to be a fun event! Thursday Prep, in the Pavilion.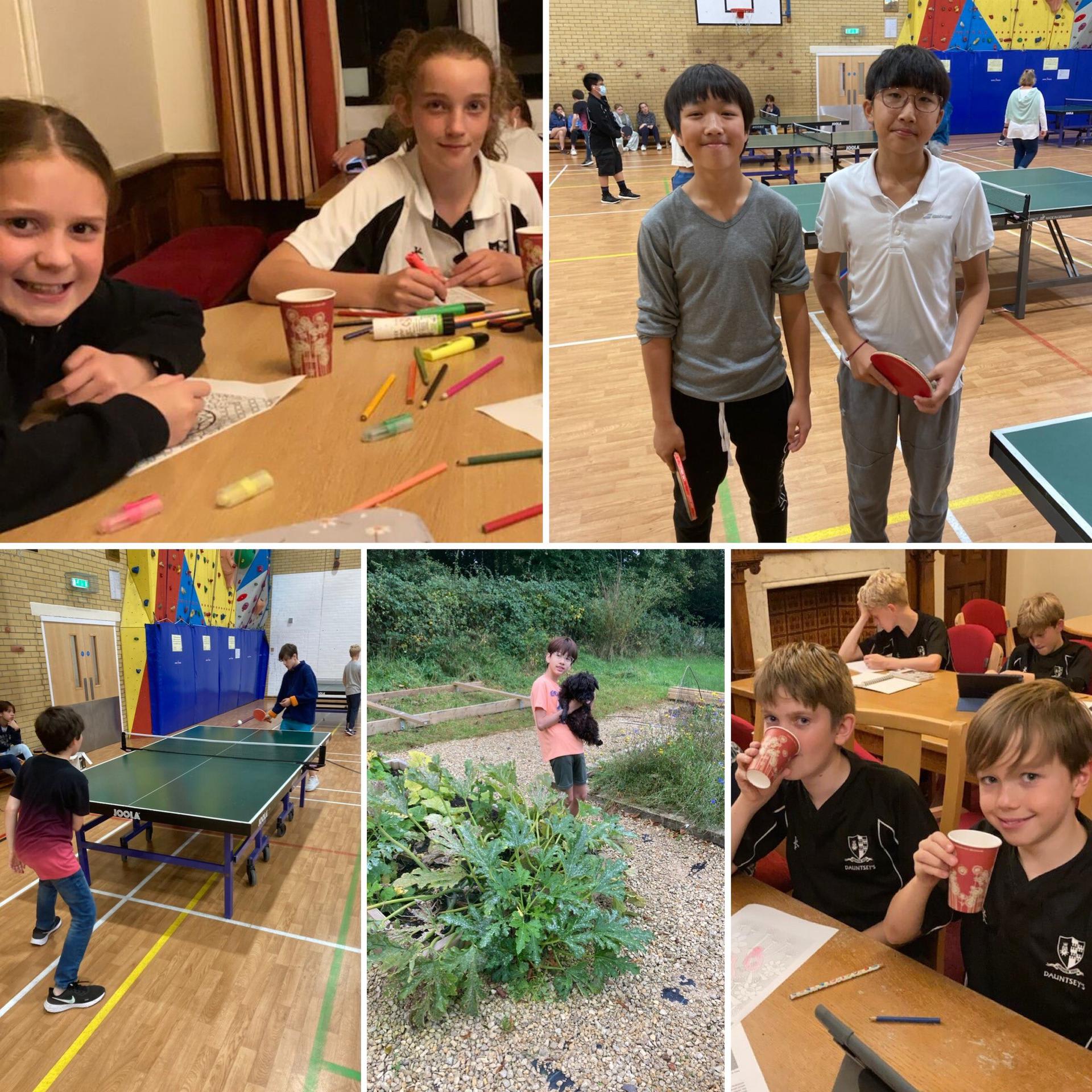 Following a bit of work in the veg patch, and a shopping trip to Devizes, last weekend's table-tennis competition provided a lot of fun and some excellent matches as the Manorites played with much competitive spirit to progress to the finals. Mr Reynolds organised two competitions: Akins did very well to win the cup competition, and Austin put in a fine performance to win the plate competition.
This week has been 'Sleep Week' at The Manor, and the tutors have been encouraging the children to adopt healthy bedtime routines; film night, mindfulness colouring, meditation and yoga have been organised in the evenings following Prep and, tonight, all Manorites are going to be in bed 15 minutes before their allocated bedtime in order to spend time reading. We hope that some good habits will follow, as the pupils learn to understand the huge benefits of sleep!
In addition, there have been two more tutor group outings this week; Miss Timmins took her group trampolining, while Mrs Reynolds and Miss Lecamp took their groups for a round of crazy golf and some cake.
This weekend, we will be making pizzas for lunch on Sunday and carrying out a 'litter pick' in the local area – this idea was put forward by our newly appointed Climate Change Rep, Poppy, and it is good to see Manorites volunteering to join the activity.
I look forward to seeing many of you for lunch at The Manor next Wednesday.
Anne Sampson, Housemistress
Sixth Form Coffee Morning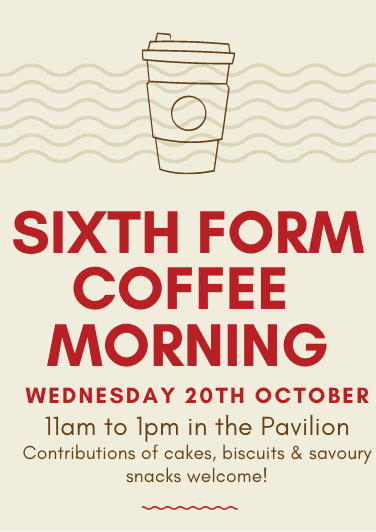 Please have a look at our digital noticeboard here. It is to advertise our own online community to connect Dauntsey's parents and businesses in order to buy, sell and advertise to each other in one trusted place. If you would like to place an advert, please email dspacontact@gmail.com
Please follow us on Twitter @DauntseyDSPA where we will keep you updated with our news.
Nurturing pupil's mental health and wellbeing.
Developed by child and adolescent mental health and wellbeing experts, the Wellbeing Hub is an interactive online portal, designed to help you guide your child as they grow up.
Please remember you will need to register before you access any of the below, instructions and links for accessing the Wellbeing Hub are detailed here on Firefly.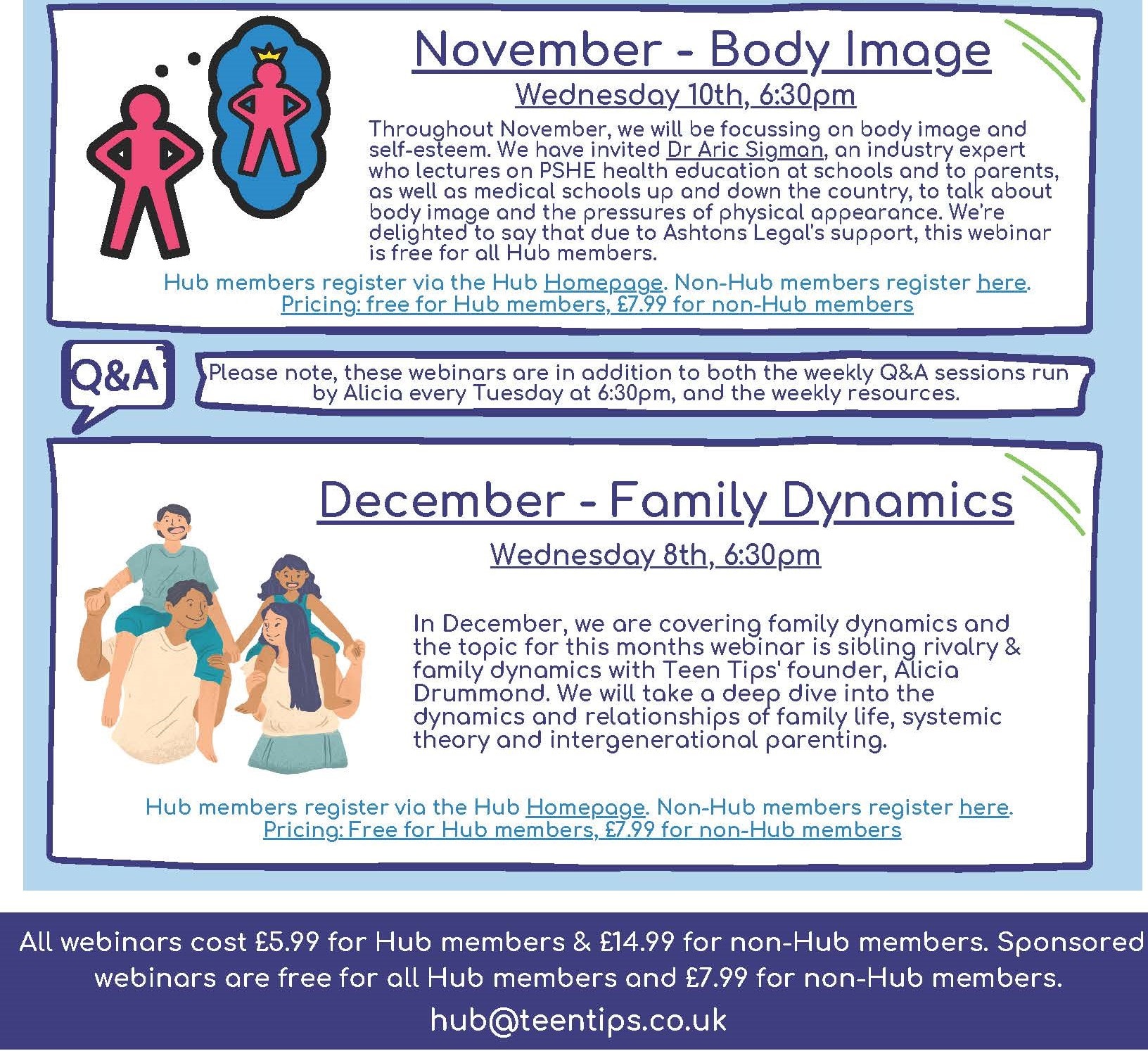 This Week in the Wellbeing Hub
Tip Sheet: The Calm Harm App from Dr Nihara Krause
We discuss the Calm Harm app and how it helps young people manage the urge to self-harm.

According to Dr Krause, the urge to self-harm is like a wave. It feels the most powerful when you start wanting to do it. That's why it's important for young people to have access to support and advice wherever they are and whenever they need it. The Calm Harm app helps young people to ride the wave by providing tasks to help them resist or manage the urge to self-harm. Please be assured, we only promote apps or organisations that help support young people with their mental health.
Please follow us on our social media accounts!