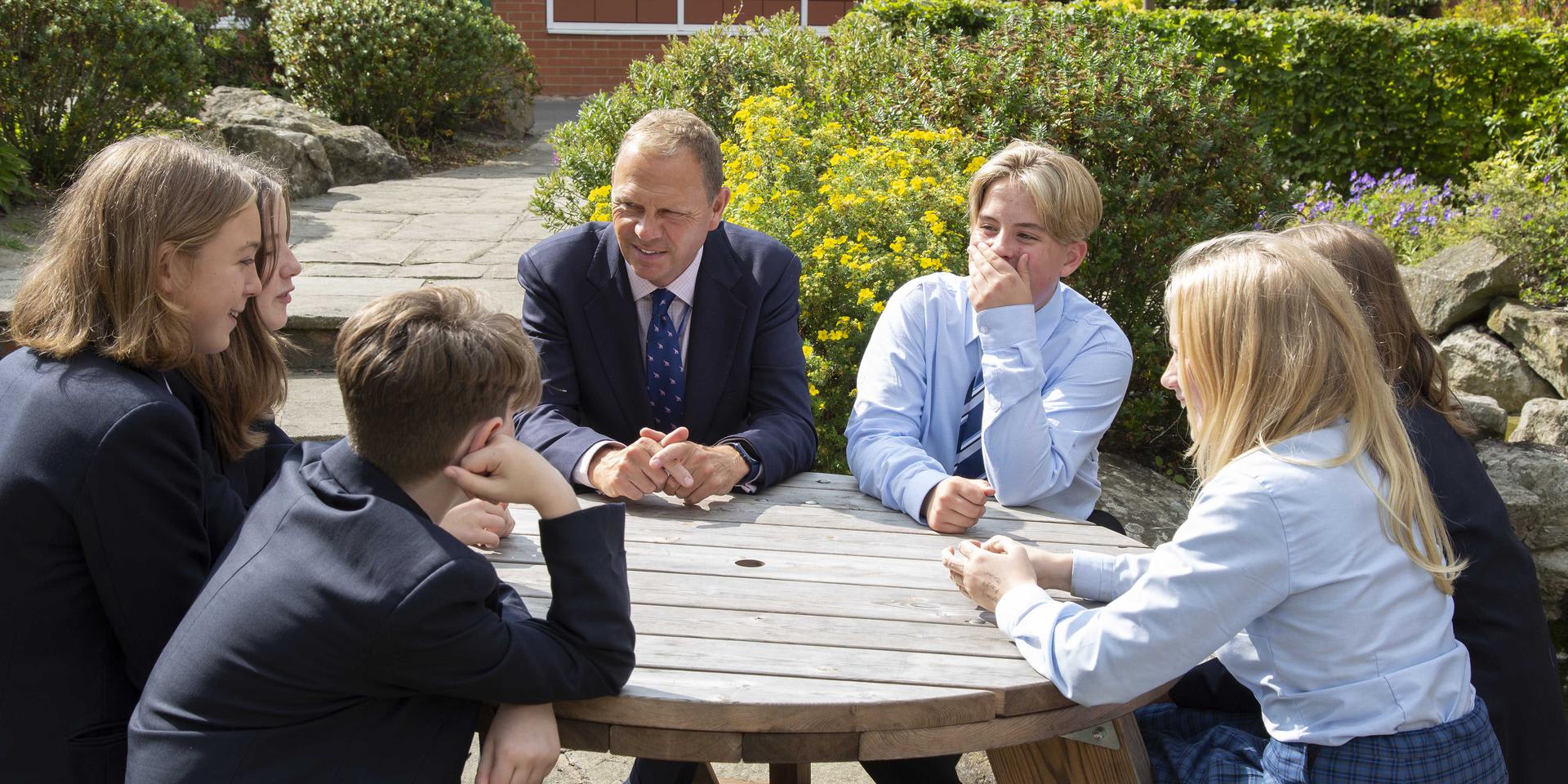 Last night saw our first music recital of the term in the Old Hall and I congratulate all of the musicians on playing so well. It takes a great deal of courage to perform in front of pupils, parents and staff, particularly after so long without public performances, and I thank all involved. Elsewhere Legally Blonde rehearsals are underway and there have been some excellent results in our first few rugby and hockey matches. I wish all of our teams the best of luck against King Edward's School, Bath tomorrow and I am very pleased that we also have a varied internal programme running for those not involved in the matches. I also remind all parents and visitors that they are very welcome to have tea in the pavilion at any time in the afternoon.
I look forward to seeing First Form parents at their lunchtime reception in the pavilion tomorrow and hope that the First Form have a super time at their Introduction to Adventure next week. Finally, we look forward to the Inter-House Cross Country and Minor Sports Festival on Friday, when I hope that many of you will come and watch, and I hope that the Exeat Weekend that follows will recharge the batteries after a frenetic start.
Mark Lascelles, Head Master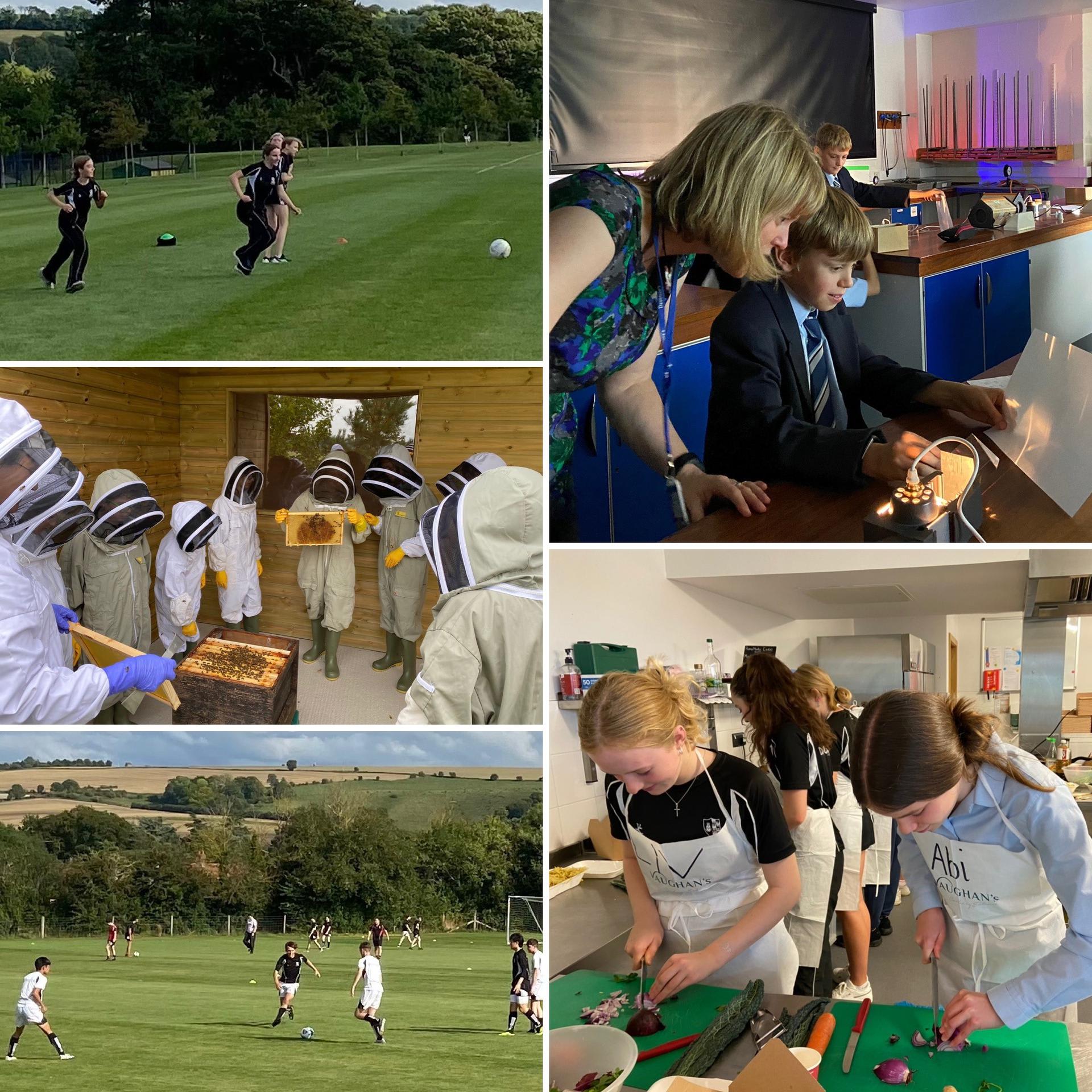 If your child tests positive for COVID-19 can you please contact their Housemaster or Housemistress in the first instance, and they will then notify the relevant staff in school. Thank you for your continued support on this matter.
Sports information - Saturday 18 September
Alongside external fixtures this Saturday we will be running an internal programme, as detailed below. Pupils can choose to either swim or play in the outdoor competitions.
1pm – 2pm
First and Second Form Girls – Netball Competition – Outside Courts
Third Form Girls – Netball Competition – Outside Courts
First and Second Form Boys – Football Competition – Pitch 5
Third Form Boys – Football Competition – Mercers Pitch 3
1pm – 2pm
Swimming Pool – Lower School
2pm – 4pm
Swimming Pool – Upper School
1pm – 4pm
Gym – Upper School only
Transport Information - Saturday Buses
On Saturdays the morning bus timings are exactly as published for each weekday.
Although we do not run a bus service on Saturday afternoons, owing to the fact most pupils are playing sport and parents often come to watch, we do operate a taxi service that departs from school at 4.30pm. Pupils need to inform Reception by 10.00am on the Saturday morning should they wish to use the service. Pupils wait in the Library until the departure time and are then escorted by the duty member of staff to the taxi pick up point. There is no charge for this service provided that the pupil is a regular bus user; if that is not the case the cost of the taxi will be charged to the pupil's invoice at the end of term.
Transport Information - Marlborough Bus
A review of the bus timetable has been undertaken and unfortunately, we will need to revise some of the pick-up times as follows:
Music Recital - Thursday 23 September
There will be a solo music recital on Thursday 23 September at 7.30pm in the Old Hall. All are welcome to attend this event.
Gareth Harris, Director of Music
Email communication from the school
We are aware that some parents are not seeing routine emails sent by school. In most cases if you are using Hotmail, Gmail or Yahoo email accounts this is because your email filters are directing emails to your junk or spam folders. If you believe that you have not received emails from us, please could you check your junk or spam folders. If you mark the sender of the emails going into your junk or spam as a "safe sender" this will mean that future emails go direct to your inbox. A quick Google search on how to mark emails as being from a "safe sender" will help explain how to do this.
Mercers' Lectures Programme
Limited tickets are still available to hear John Bird MBE speak on Wednesday 13 October, please do book online if this is of interest.
John Bird, along with Gordon Roddick of The Body Shop, launched The Big Issue in 1991 which campaigns on behalf of homeless and socially excluded people. It is not part of any other media group and guards its independence fiercely and its high standard of reporting has won many high-profile media awards.
In 1995, Bird was awarded the MBE for 'services to homeless people' and in 2006 received the prestigious Beacon Fellowship Prize for his energy and originality in raising awareness of homelessness and his support of homeless communities worldwide. He was nominated for life peerage by the House of Lords Appointments Commission in October 2015 to become a non-party-political peer.
Jo Sagers, Registrar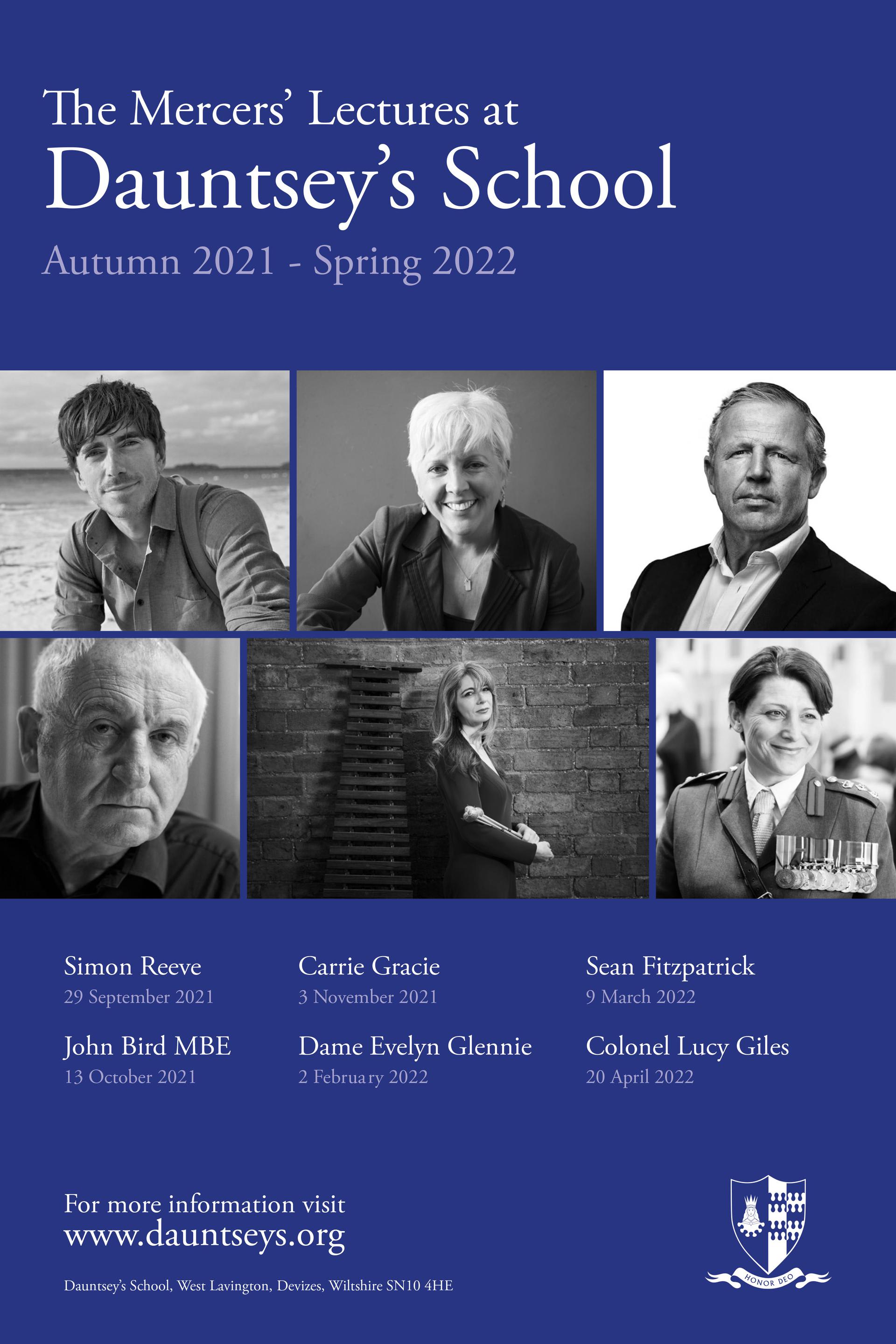 Dauntsey's Mentor Network
Dauntsey's Mentor Network (DMN) was established in 2014 and is populated by parents of pupils, Old Dauntseians and friends of the school. It provides a hugely valuable human resource of individuals from a wide range of professions and industries, who are keen to share knowledge of their sector and the journey they have taken in their career thus far. There is no fixed expectation, or time commitment, for what a Mentor will undertake to provide for pupils, it merely allows the Careers Department to invite mentors to take part in appropriate events that are run from time to time by the school. Through the Careers Programme of events, in particular the Sixth Form Speed Networking held in June, pupils have the opportunity to learn first hand what different roles involve and what they require from a competence and skill set point of view. They also improve their soft skills, make more informed university applications and enhance their employability profile.
If you are interested in being involved please complete the brief form here. If you would like to know more about the Mentor Network before completing the form then please email j.ohanlon@dauntseys.org or call on 01380 814539 or c.haywood@dauntseys.org on 01380 814540
Charity Cricket Kit Recycling
Dauntsey's have teamed up with the Lord's Taverners to collect used cricket kit and distribute it to those in the UK and overseas who may not be able to access their own. As the season comes to an end, we are therefore asking if you do have second hand pads, bats, gloves, shoes etc. which are in serviceable condition, to please consider a donation.
Simply leave any such kit in the glass house marked 'Charity Cricket Recycling', and we will ensure it goes to a good home. We will be open for deliveries any time between now and half term.
Below is a poster produced by National Online Safety which offers advice on how best to protect your family against social media scams. We hope this is of use to our parents.
UCAS Briefing for Upper Sixth Parents - This Saturday
Parents are invited to join a briefing session on the UCAS process on Saturday 18 September, from 10am to 10.50am. Links to the MS Teams meeting have been sent out but if you have not received one do please email j.ohanlon@dauntseys.org
International University Presentation
David Hawkins, the UKs leading adviser on International University applications, will be visiting the school on Tuesday 21 September at 4.20pm. He will present and answer questions on degree level study outside the UK and give an overview of application processes. If you are interested in attending, or wish to know more about the session, please email j.ohanlon@dauntseys.org or c.haywood@dauntseys.org
First Form Parents' Reception - Saturday 18 September
We look forward to welcoming parents to our First Form Parents' Reception tomorrow at 12pm. Please click here for a letter sent out earlier in the week which provides further details on the event.
Applications are now open for our Manor Boarding Award. This award is open to any current Second Form day pupils who would like to experience boarding at The Manor for the second half of the Autumn Term. Details on how pupils can apply can be found here.
To offer a sense of what life at The Manor is like, do watch our short film about boarding at The Manor.
First Form Trip to Braeside - 20-21 September
Final arrangements for the First Form trip to Braeside have now been made. Pupils will depart from Dauntsey's at 14:45 on Monday 20 September and will return in time for school transport at 17:20 on Tuesday 21 September. Please read the attached letter for more important information about the trip.
First Form MFL Breakfast - Thursday 23 September
Hola! Salut! Hallo! All First Form pupils are invited to the Dining Hall on Thursday 23 September during short break in order to celebrate European Day of Languages! Pupils will enjoy a lovely continental breakfast and will be served by our Sixth Form linguists.
Demelza Hills, Head of Spanish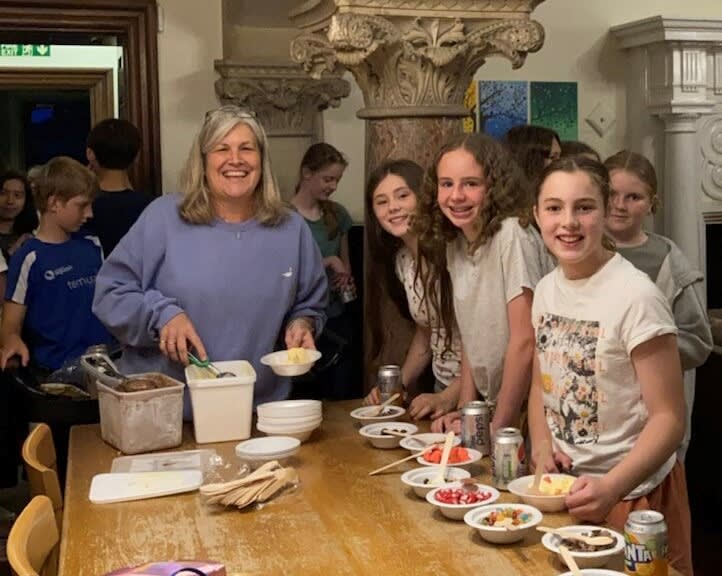 The Manorites are continuing to enjoy the light evenings and pleasant weather, and many of them are honing their football skills…in fact, we have had to create a second pitch in order to accommodate the matches. Others are enjoying playing tennis on the newly resurfaced courts, and table-tennis is proving to be incredibly popular once again – some of the tutors are getting fairly competitive too!
Last weekend we enjoyed a very relaxing 'in' weekend. Many chose to watch a film together on Saturday evening, and the ice-cream parlour was a great hit with all! On Sunday, the pupils were able to go on a shopping trip, to Devizes, to stock up on essential supplies. When we returned to House, some of the Manorites harvested more tomatoes, grown from seed by the 'Manor Veg Club', and they also picked some delicious blackberries, which Mrs Sampson was able to put into a crumble that was devoured at supper!
This week the 'Manor Veg Club' have been busy preparing the raised beds for their next crop – winter spinach has been planted and the sweet peas have (sadly) now been cleared from the bed. The first form pupils have had the treat of a bedtime 'hot chocolate and chat', in their dorm, with Mrs Sampson; it was wonderful to hear all the happy stories of their first few weeks at Dauntsey's.
Anne Sampson, Housemistress
Please have a look at our digital noticeboard here. It is to advertise our own online community to connect Dauntsey's parents and businesses in order to buy, sell and advertise to each other in one trusted place. If you would like to place an advert, please email dspacontact@gmail.com
Please follow us on Twitter @DauntseyDSPA where we will keep you updated with our news.
Nurturing pupil's mental health and wellbeing.
Developed by child and adolescent mental health and wellbeing experts, the Wellbeing Hub is an interactive online portal, designed to help you guide your child as they grow up.
Please remember you will need to register before you access any of the below, instructions and links for accessing the Wellbeing Hub are detailed here on Firefly.
The Pupil Hub - for ages 11-13
The Wellbeing Hub has just launched their new Pupil Hub for children aged 11-13.
This Hub features a bank of Q&A's, a range of Top Tips and access to our Futures section and Spark page, much like our existing Pupil Hub but adapted for younger years.


September's Theme: Cultures of Success
This Week In The Hub
Talk: Process & End Goal Cultures with Alicia Drummond
In this talk, we discuss how to create a culture of success for your child and how that culture will have an impact on their attitude to learning, their attitude to failure and potentially to their mental health and wellbeing. We explain what process and end goal cultures are, and how they affect young people. We have also created a tip sheet on how to cultivate a process goal culture in your household.
Please follow us on our social media accounts!